Toshiba to Release Flagship RD-X7 DVD Recorder in Japan
Toshiba removed the HD DVD functions from its flagship VARDIA RD-X7 model and will release it in Japan in the middle of June, hoping to attract consumers with advanced DVD recording capabilities. A prototype of the RD-X7 DVD recorder appeared last October at Ceatec Japan 2007, when Toshiba was still promoting the HD DVD format. As it was expected, the device will finally retail in the Japanese market next June without the HD DVD functions, promoted as a high-end DVD recorder. It's price will be around 160,000 Yen.
The RD-X7 comes equipped with a ground/digital tuners for recording of TV broadcasts, offers an 1TB hard disk storage capacity while it can also record content on DVD-R/RW/RAM and DVD-R DL media. It does not support recording/reproduction of HD DVD discs.
The device is also capable of burning high-definition broadcasted video in DVD media. This means that two hours of MPEG4 AVC/H.264 video (4Mbps) will be recorded on a DVD disc. The function, called "HD-REC", was initially designed to allow storing of HD DVD video content on DVDs.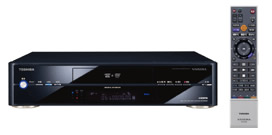 In addition, the new recorder will be able to burn encode video in the sufficient MPEG4 AVC/H.264 format.
The device also supports the "Dubbing 10" function, which will allow Japanese consumers to make up to 9 copies of a recorded digital TV broadcast.
The function will allow Japanese consumers to make up to 10 copies of a DVD that contains terrestrial digital content. Copies require both a recorder that supports the new feature as well as usage of CPRM DVD-RW/-R disk (VR mode).
Until now, owners of DVD recorders are allowed to make a single DVD copy of the digital TV programs, due to the applied digital content protection restrictions. A digital TV program recorded on the hard-disk of a DVD recorder could be copied to DVD or another device just once. When the content is copied, the original data in the hard disk was deleted.
Copy controlled Terrestrial digital TV broadcasts currently expanding in Japan. "Dubbing 10" broadcasts were expected to start in Japan in June 2008, but they were recently delayed for later this year.
The new model also supports upscalling of 480i and 1080i content and output of 1080/24p video in DeerColor HDMI interface,
Toshiba does not plan to support its once rival Blu-ray format, at least for now. In Japan, the 75% of the available recorders are currently based on the DVD format, and Toshiba hopes that the Blu-ray's slow adoption has left enough chances for the RD-X7 to succeed.