Toshiba Showcases First Notebook Computer with HD DVD-ROM Drive
Toshiba's Digital Products Division (DPD) is demonstrating an HD DVD-ROM drive-equipped Qosmio audio-video notebook PC at its CES booth this week, the first notebook computer to integrate an optical drive under the DVD Forum's new HD DVD media standard. The HD DVD drive-equipped Qosmio will allow consumers to be able to enjoy high-definition video content anywhere in the home or on the go with external power. The HD DVD format is backwards-compatible with the current DVD formats, due to its similar disc structure. The drive can also read or write current DVD formats.
The Qosmio notebook will also be powered by an Intel Centrino Duo mobile technology-based platform (code-named "Napa") built around Intel's first mobile dual-core processor and will offer a 1-bit digital amplifier for audio. Speaking of audio support, Toshiba uses a new bass-reflex speaker technology from harman/kardon, and supports the Dolby Home Theater technology, delivering a richer surround sound.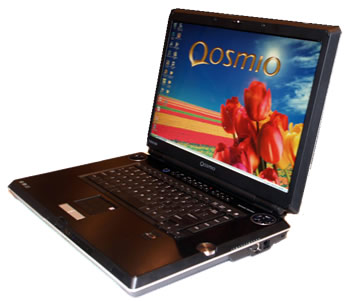 HD DVD content will be reproduced by Toshiba's playback software, while the notebook's display uses Toshiba's TruBrite technology and promises enhanced color saturation. Nvidia chipsets take care of the graphics signals for high performance.
Qosmio (pron. "koss-mee-oh") also features an integrated TV tuner, digital video recorder (DVR), virtual surround-sound stereo and all the capabilities of a notebook PC with Microsoft Windows XP Media Center Edition 2005.
Pricing, availability and specific model number and configuration for the next-generation Qosmio with integrated HD DVD will be announced later in Q106. Toshiba also said that some advanced HD DVD features may be limited in the initial product.