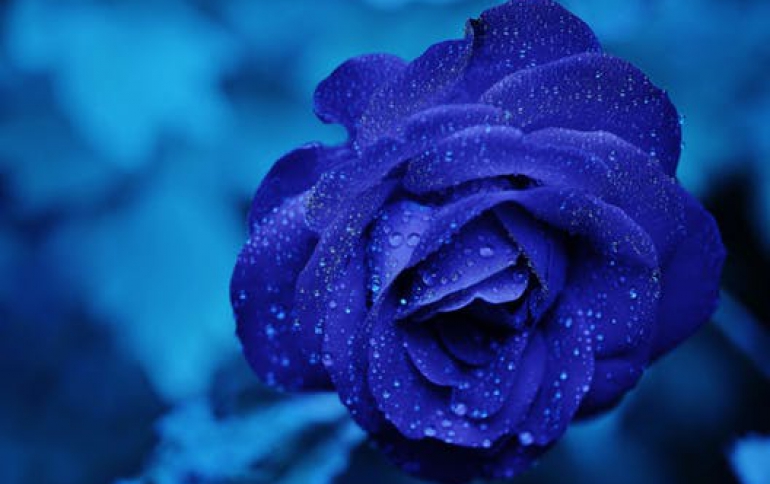 Toshiba Unveils CELL REGZA LCD TV Series with 3D Capabilities
Toshiba today unveiled the latest additions in its line-up of CELL REGZA LCD TVs integrating the Cell Broadband Engine, designed for superior multimedia processing, and the advanced CELL Platform. The three new LCD TVs, the CELL REGZA 55X2, CELL REGZA SLIM 55XE2 and 46XE2, all offer 3D capabilities, including 3D Super Resolution Technology that upgrades 3D content to superior near high definition content, and 2D3D Conversion Technology that allows users to enjoy 2D content as high quality 3D. The CELL REGZA SLIM 55XE2 and 46XE2 will be available from the beginning of October, and the 55X2 from the end of October in the Japanese market. All the new models also feature Digital TV Tuner and 2x BS.110/CS Digital ones, DLNA and USB ports
Toshiba's 3D Super Resolution Technology takes 3D content separately delivered to the left and right eye through the side-by-side system, the system most widely adopted for 3D broadcasts, and promises to bring it to near high definition quality in 3D. In addition, Toshiba's 2D3D conversion technology captures and analyzes image composition and movement in 2D content and converts it to 3D with precise rendering and high definition images.
The new CELL REGZA 55X2 offers viewers a dynamic contrast ratio of 9,000,000:1, a brightness of 1000 cd/m2 and integrates a Mega LCD panel specially designed to interface with the CELL REGZA's high luminance LED.
CELL REGZA TVs also offer image-enhancing capabilities that utilize the arithmetic processing capabilities of the CELL Platform. The new TVs adopt "CELL REGZA Block Noise Clear", an HD distortion removal technology that delivers clearer HD TV program, and also supports quadrupling of the effect of ClearScan 2406, a four-times scan frame rate that improves processing of fast action content.
The new CELL REGZA TVs continue to offer storage capacity of a 3-terabyte (TB) hard disk drive. A 2TB hard disk drive dedicated to the CELL REGZA's "time-shift machine 2," which can simultaneously record up to eight channels of digital terrestrial broadcasts. In the earlier model, the CELL REGZA 55X1, a maximum recording time of approximately 26 hours was fixed for each channel. With the new models, recording times will change depending on the channels9 that are set-up for simultaneous recording. Also, easy operation of playback of recorded programs includes "Jump to the start" function, which allows viewers to playback a program that is still being recorded using the time-shift function.
When connected to a REGZA Blu-ray Disc recorder, the CELL REGZA TVs can record programs directly to a Blu-ray disc as they are recorded to the hard disk drive using standard recording, not the time shift function.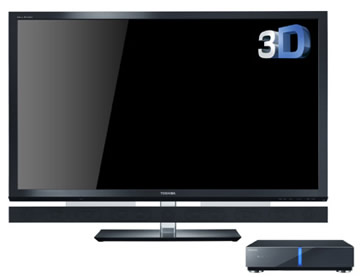 Toshiba will raise its overseas market share of LCD televisions to 10% in fiscal 2011, aiming to achieve a higher target than the nearly 9% share estimated for the current fiscal year.
The consumer electronics maker plans to increase the number of products it will introduce especially to emerging markets by 50% from fiscal 2010.
The company said it will extend the use of Regza, a brand name for its LCD TV, to its Blu-ray disc recorders and other visual equipment.
The company plans to begin selling a 3-D version of Cell Regza, its upscale LCD TV, in Europe and the U.S. by the end of fiscal 2010.
New 3D Blu-ray players
Toshiba also today announced five new DVRs with Blu-Ray recorder and HDD supporting 3D (3 Models sold with an optional 3D Upgrade kit).
Starting with the Hi-End RD-X10, with 2TB of HDD, USB HDD Recording and 12 Digital TV Tuners and sold at 220,000 Yen in Japan. Toshiba also offers a more "affordable" version of this DRV with the D-BZ500 and its 8 Digital Tuner but with only 320GB of HDD for just 80,000 Yen.