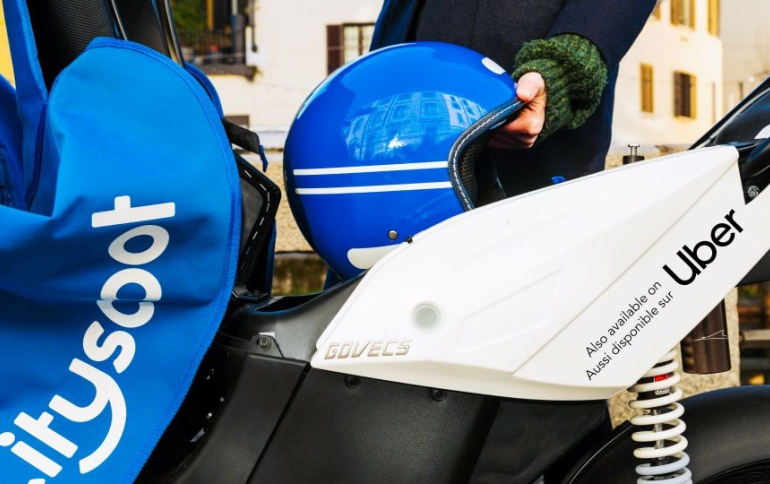 Uber to Launch Cityscoot e-mopeds in Paris
Uber announced that Cityscoot e-mopeds will be available to book and pay for directly in the Uber app in Paris next month.
Alongside cars, bikes, scooters and transit, the addition of e-mopeds mans residents and visitors of Paris will have access to more shared mobility options than any other city in the world.
After the the recent integration of public transit in the Uber app in Paris, the addition of Cityscoot e-mopeds makes the French capital home to Uber's largest array of product offerings.
With the Cityscoot option in the Uber app, users will instantly be able to locate and book one of the 4,000 available e-mopeds. Cityscoot e-mopeds will continue to be offered at the same pricing of 29 cts/minute, payment being automatically managed on the Uber app.
Alongside cars, scooters and bikes, the option will be featured on the home screen and in the tab. Uber, JUMP and Cityscoot services complement each other both in terms of usage and pricing, allowing riders to access a range of options adapted to their needs:
JUMP scooters for very short distances: <2 km
JUMP bikes for short distances: 3 km on average
E-mopeds for mid-distances: 4 km on average
Cars for long distances: 9 km on average
How it works:
Open the Uber App
Next to the cars, bikes and scooters, all electric mopeds available around you show up on the home screen
Select the e-moped of your choice and follow the itinerary
Unlock the e-moped by typing the pin on the handlebar
Put your helmet on (located under your seat), a hairnet is also at your disposal
Drive on the road and not on the bike or bus lanes
Once your ride is complete, park your electric moped within a Cityscoot zone or at an authorized place – car and motorbike parking spots – then click on "end the trip"

Cityscoot electric mopeds have their speed is limited to 45 km/h. They come with a protective apron that covers the legs, a transparent tactile pouch is also provided for users' to follow their phone's GPS safely. In the event of falling, a warning is immediately sent to Cityscoot 's customer service