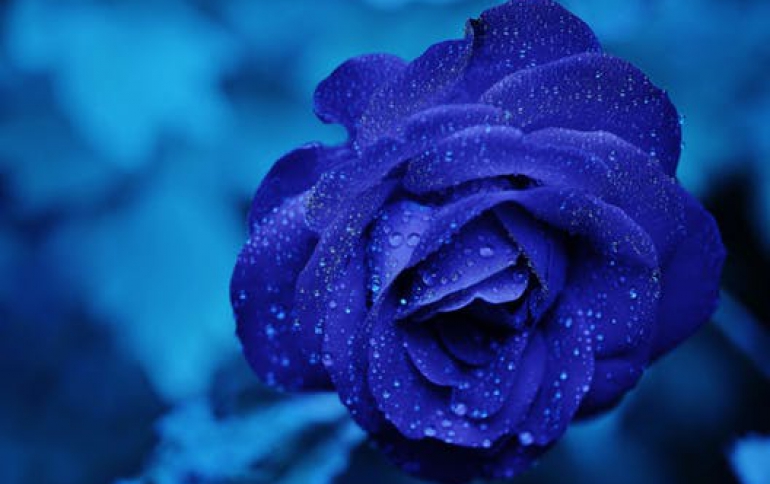 Verbatim launches new range of Secure Storage Products
Verbatim is launching a new range of professional secure storage products under the family name 'Secure 'n' Go'. The new assortment is addressing the need of professional and private users to prevent data leakage, secure mobile storage devices and match legal EU requirements. The range includes hardware-encrypted Secure Data USB drives, SSD ExpressCards, Solid State Drives, DVDs and Central Remote Management. Verbatim will be presenting the new range at the Infosecurity Show at Earls Court, London, on 27-29 April 2010 (stand J96). The products will be available in stores from May 2010.
Secure Data USB Drive / SSD ExpressCard "Remote"
Verbatim?s Secure Data USB and SSD Drives "Remote" deliver AES 256bit (Advanced Encryption Standard) hardware security encryption and integrated password protection on an SSD ExpressCard or USB drive. An additional line of defence strengthens the security of your data even further: After registering the device, the user can control the device via the Internet and "lock" (no password entry possible), "unlock" (enable password entry) or "erase all data" if it becomes lost/stolen. The SSD ExpressCard drive fits inside every laptop?s PCI ExpressCard slot.
Secure Data USB Drive /SSD ExpressCard "AntiVirus"
Verbatim?s Secure Data USB Drive / SSD ExpressCard "AntiVirus" incorporates an embedded McAfee antivirus support. This ensures that user data remain both secure from unauthorised viewing and virus free offering a combination of premium 256bit hardware encryption with an independent virus scanner ? all provided independently of the host computer. The free AntiVirus update service lasts for 12 month. The virus scanner will continue to work after these 12 months, and users can choose to purchase and receive future updates from McAfee directly once the free period has elapsed.
Centralised Remote Management for Corporate Users with Verbatim VCS
Verbatim Control System (VCS) offers a centralised management server allowing the IT administrator to remotely control and manage all flash drives being used in the organisation. The advanced remote management capabilities include:
- Lock, Unlock or Erase drives of any user from corporate headquarters
- Audit, trace and view logs of corporate flash drive usage - Enforce corporate security policies with respect to the use of flash drives by different user types
- Generate individual drive or aggregated reports
Corporate Security - Verbatim Secure Data USB Drive FIPS 140-2
Verbatim?s Corporate Secure USB Drive - FIPS Edition - is NIST certified to meet Federal Information Processing Standards (FIPS) 140 Level 2 security requirements for cryptographic modules. Optimised for maximum performance and protection, this drive offers AES 256bit hardware data encryption, password hashing algorithm and protected password entry.
Data Security with Secure Data HDD Backup "PowerBay DataBank"
The Verbatim PowerBay DataBank 4 Bay NAS Hard Drive provides data security for small and medium sized businesses, allowing documents to be safely shared across a network and on the Internet for employees to access. Designed specifically for network storage, a NAS tends to be easier to manage than a file server. All data recorded to the RAID volume can be encrypted with AES 256bit hardware encryption. The encrypted volume can be mirrored through the external eSATA port and the mirrored volume will also be encrypted. The System Administrator can also lock the entire volume by setting the passwords in user interface (GUI).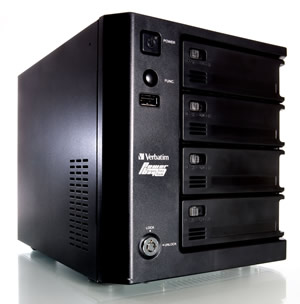 Verbatim Secure Data SSD 6,35cm (2,5")
Flash-based solid state drives (SSD) solutions are increasingly finding their way into laptops, servers and other devices. With the new Verbatim Secure Data SSD 6,35cm (2,5"), users will be able to upgrade their notebook from HDD storage to SSD technology while at the same time ensuring that their data is secure. Featuring 256bit hardware encryption, the new 6.35cm (2.5") SSD drive provides additional benefits to laptops such as faster start-up, faster random access and faster boot and application launch times. It also offers lower power consumption, less heat when in use, and high mechanical reliability due to the lack of moving parts, as well as the ability to endure extreme shock, high altitude, vibration and extremes of temperature.
Secure Optical Data with Verbatim SecureSave DVD
The SecureSave DVD from Verbatim saves and protects files using 256-bit AES software encryption. Data can be securely stored on the disc and transported safely with the knowledge that the contents of the disc cannot be accessed illegitimately.