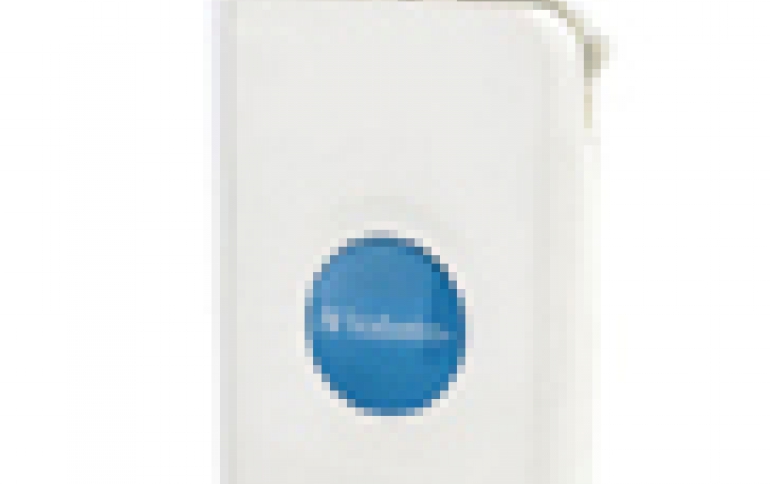 Verbatim Launches Ultra-Compact 12GB Store 'n' Go USB Drive
The new Store 'n' Go Drive makes it convenient for users to keep vital information such as emails, photos, personal calendars, presentations and video files available at all times. The sleek USB storage device comes pre-loaded with Mobile Launchpad, a utility for downloading applications that can be run directly from the Verbatim USB Drive. Mobile Launchpad also allows users to have complete access to personal files and data without loading the content on a guest system. For quick and immediate access, the drives can also be used in the familiar drag 'n' drop mode.

With the device, users can carry and access up to 12 hours of MPEG-1 video, about 6,000 300-DPI photos, 6 hours of DVD-quality video or tens of thousands of personal or business documents. Many applications specifically designed to enhance the portable experience are available for download online. Programs include mobile photo databases, ID/Password management tools, and applications which use the drive to log in from any computer and make Internet phone calls or have online chats.

Store 'n'Go Drive has a polymer enclosure to provide shock resistance to the hard disc inside. It can be easily moved from computer to computer without having to shut down or reboot the system.

Weighing just 1 oz., the Verbatim Store 'n' Go USB Drive measures a mere 1.38 x 0.38 x 2.8 inches. The drive is fully compatible with Windows 98SE, ME, 2000, XP, CE 3.0 and higher; Mac OS 9X and higher; Linux 2.40 and higher systems. Mobile Launchpad is compatible with 98SE, ME, 2000, XP and higher systems.