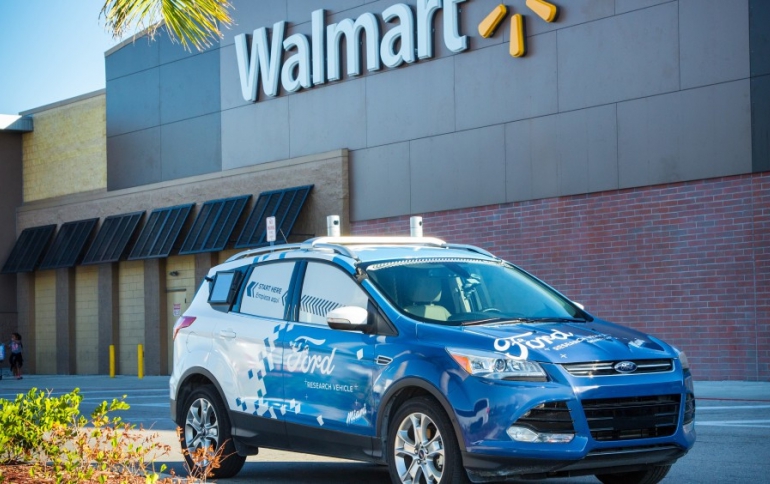 Walmart and Ford to Test Grocery Delivery with Self-Driving Cars
Walmart is partnering with Ford to explore delivery with autonomous vehicle technology.
The Walmart pilot, which will take place in the Miami area, initially will use human-driven vehicles operated to simulate how a self-driving vehicle would behave, Ford said. Ford has said it expects to launch commercial production of automated vehicles by 2021.
Through the program, Walmart aims to learn more about how the company can take advantage of self-driving vehicles to deliver fresh groceries to customers. In Miami, Postmates serves as Walmart's delivery partner and is already connected to Ford's digital platform.
Walmart is already offering grocery delivery in nearly 100 metro areas.
Recently, the company also explored a small pilot project with Waymo, to start exploring how customers will want to use self-driving cars when it comes to their grocery shopping.
Walmart is competing with online retailer Amazon.com and other rivals to cut the cost of delivering goods over what industry executives call "the last mile" to customers who order online.
Replacing human delivery van drivers with robotic systems could reduce last-mile delivery costs. But the technology is still expensive, and the industry is still waiting for regulations that could help protect automated vehicle owners or manufacturers from liability claims.
Ford has emphasized commercial uses of autonomous vehicle technology, while rival General Motors Co is working to build a robot taxi service at its GM Cruise unit.
Ford is also said to be in discussions with Volkswagen AG about a possible investment in its self-driving vehicle unit.
In July, Ford said it would create a new business unit, Ford Autonomous Vehicles LLC, to house its self-driving vehicle operations. The automaker said it would invest a total of $4 billion in the unit through 2023.