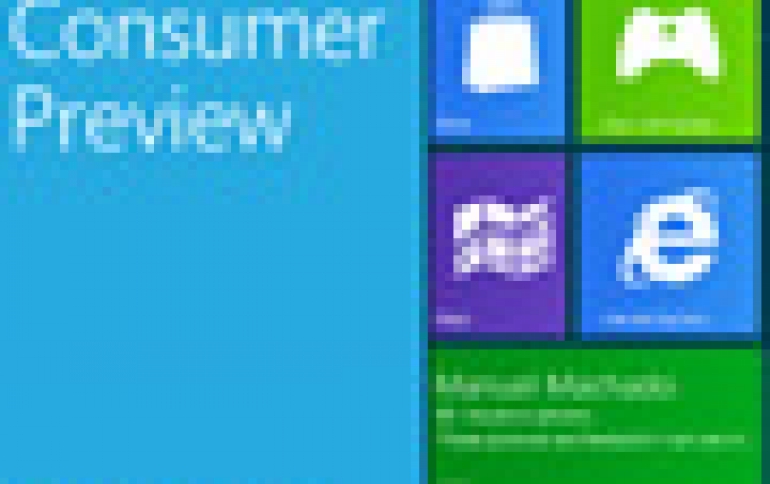 Windows 8 Preview Available For Download
At Mobile World Congress in Barcelona, Microsoft unveiled the Windows 8 Consumer Preview to its partners and press. Microsoft says it has made over 100,000 code changes to the new OS and the Consumer Preview represents a refined product ready for broad and daily usage by those willing to test a pre-release OS. You can download the Consumer Preview starting now at
http://preview.windows.com
. The downloadable version will only work on laptops and PCs running traditional x86 chips. The ARM-compatible version of the system is not yet ready for public use. Microsoft is working with Nvidia, Texas Instruments and Qualcomm (Snapdragon S4 MSM8960 ) for the ARM System on a Chip (SOC) processors. The reference design tablets will be seeded to a select group of developers, Microsoft officials said.
At the event, Microsoft showcased Windows 8 running on a wide range of new x86- and ARM-based reference hardware. The first of the reference design tablets was a Toshiba model with a 10-in. screen that runs on the Nvidia Tegra 3 quad-core processor. Other tablets shown run ARM designs, including the Qualcomm Snapdragon and a Texas Instruments processor. Another reference design tablet ran the Intel Clovertrail x86 processor.
All four of the tablets will feature "connected standby" capability, which means they can be turned on instantly and when the screen is dark, they will update apps the same way a smartphone does, Microsoft said.
With the Developer Preview, Microsoft focuses on presenting the new APIs tools for developers. Today's Consumer Preview is focused on a broader audience, and along with improvements to the WinRT APIs based on developer feedback, Microsoft is introducing the full user experience, the Windows Store for apps, and early previews of some first- and third-party apps.
Since the Developer Preview in September, designed to preview the programming platform, Windows 8 has progressed across every dimension. From completing the user experience for touch, keyboard, and mouse, to refining the development platform, to improving performance, quality, and reliability across all subsystems as well as new features, the Consumer Preview represents a complete view of the capabilities of Windows 8.
The Windows 8 Consumer Preview also marks the opening of the Windows Store for testing, which includes new Metro style apps from both third-party developers and Microsoft. During the Consumer Preview, these apps are available to try and experience at no cost to users. These apps and the set of preinstalled apps are at an early stage of development and are available as an early App Preview, and will be updated via the Windows Store. In addition, the Store will offer personalized recommendations, and Windows 8 gives users the ability to take their apps and settings with them across multiple PCs.
Windows 8 als offers users seamless integration with the content across their web services. Optionally signing in with a Microsoft account provides access to features including the ability to roam all settings, use cloud storage, communicate with email, calendar, and contacts, and connect to a broad range of services. Users connections to the cloud works across their Windows PCs and their Windows Phones. Early previews of the Metro style apps for Mail, Calendar, People, Messaging, Photos, and SkyDrive are also included in the preview OS.
Microsoft has also icluded IE10 to the preview version, designed specifically for Windows 8 devices. It provides an edge to edge interface that is all about less browser, and more web. The new browser is hardware-accelerated to enable web performance. The same rendering engine and script engine is available on the Windows desktop as well.
Microsoft says that Windows 8 works great with the hardware and peripherals users already have - a Windows 7 PC identified by a Windows 7 logo - although some software and devices will require updates provided by the manufacturer.
Whether you have a logo PC or you?ve built your own PC, the recommendations for the Consumer Preview include:
- 1 GHz or faster processor
- 1 GB RAM (32-bit) or 2 GB RAM (64-bit)
- 16 GB available hard disk space (32-bit) or 20 GB (64-bit)
- DirectX 9 graphics device with WDDM 1.0 or higher driver
One new element to Windows 8 is the requirement that Metro style applications have a minimum of 1024x768 screen resolution, and 1366x768 for the snap feature. If you attempt to launch a Metro style app with less than this resolution (e.g. 800x600, 1024x600) you will receive an error message.
Microsoft's recommendation for the Consumer Preview is to run the Windows 8 Consymer Preview version natively on hardware and not in a virtual machine. "The most important reason is access to the rich experience powered by accelerated graphics, and the fast and fluid operation that you?ll experience when running this way. If you do run in a VM, which is supported as expected, please be sure your screen size meets the minimum requirements," Microsoft said.
In addirion, with the Consumer Preview, if you want to support touch, you will need a screen that supports multi-touch.
Microsoft says that a vast majority of Windows 7 touchscreens will perform well for Windows 8.
It is also worth noting a couple of other features that have specific hardware requirements:
- Secured Boot requires a new UEFI BIOS, which is not available broadly on PCs yet, but is starting to be made available. If your machine does have UEFI, you can enable it via BIOS settings.
- BitLocker does not require but performs more seamlessly if your PC has a Trusted Platform Module (TPM). Machines that have this sometimes require it to be enabled via BIOS settings. BitLocker To Go requires a USB flash drive that meets performance criteria evaluated at installation time.
- Hyper-V requires a 64-bit system with second level address translation (SLAT) capabilities and an additional 2 GB of RAM. You can also enable SLAT via a BIOS setting.
- Some games and other software require graphics capabilities compatible with DirectX 10 or higher (including some games available in the Consumer Preview and in the Windows Store. We will continue to improve the verification of your system prior to downloading or running software with these requirements). Some games and programs might require a graphics card for optimal performance.
- If you clean install instead of upgrade, you should check your PC manufacturer's website to make sure you install any specific drivers that they provide there. Many laptops will get better battery life with a power-optimized driver that is specific for that PC (often known as ACPI, Power, or Chipset driver).
Those who have already been running the Windows 8 Developer Preview can install the Windows 8 Consumer Preview using the migrate option (just keep personal files), but not the upgrade option (keep personal files, apps, and settings). Or if they prefer, they can of course do a clean installation (keep nothing). The Consumer Preview release does permit upgrading from Windows 7, and will run the integrated upgrade advisor to check on any things users might need to look into. However, there is no rollback after an upgrade installation. Microsoft also strongly recommends that users perform a system backup prior to an upgrade, migrate, or clean install of Windows 8 Consumer Preview.
Also note that the final release of Windows 8 will not support upgrading from any prior Windows 8 "Preview" release, though the migrate option will still be supported. In any upgrade scenario, you can run the Disk Cleanup Wizard to remove the previous installation in order to free up disk space. The download will also support boot from USB for a completely clean installation as well.
Business features
Microsoft also published a product guide for business users of the operating system. In the guide, it was revealed that the ARM-based version of Windows 8 will lack some of the management features available to the version running on PCs.
Surpisingly, Windows on ARM (WOA) devices won't be able to connect to domains. "ARM-based tablets use less power than 32-bit and 64-bit devices and workers can rely on the extended uptime of these devices. Although the ARM based version of Windows does not include the same manageability features that are in 32-bit and 64-bit versions, businesses can use these power-saving devices in unmanaged environments," the guide reads. That means ARM devices won't be able to be added to Active Directory domains and have their user access managed by system administrators, or be remotely managed through Microsoft's System Center environment.
The 32- and 64-bit versions of Windows 8 for x86 systems will integrate into existing management systems, according to Microsoft. Microsoft also outlined a "Windows to Go" version of the operating system that can use a USB drive to boot a PC from an approved corporate Windows 8 image, allowing the user to connect to the enterprise network remotely from an untrusted system without giving the locally installed operating system access to the network.
"Windows To Go enables alternative workplace scenarios. Offsite temporary workers can be given a Windows To Go drive for the duration of their employment so that no corporate data is stored on their personal device. Remote and work-at-home employees can be issued a Windows To Go drive for regular work done outside of the office. In these scenarios, the Windows To Go drive enables remote worker productivity while helping keep corporate data safe," Microsoft says.
"By creating a Windows To Go drive, you can include all of the applications that the employees use at work. When a user boots their PC from the Windows To Go drive, it creates a corporate desktop experience so they can quickly start working. If they have enterprise network access, employees can use a virtual private network (VPN) connection or DirectAccess to access corporate resources. If the enterprise network is available, Windows To Go will automatically be updated by using standard desktop management processes."
Internet Explorer 10 on Windows 8 is also plug-in-free. Line-of-business applications that require legacy ActiveX controls will continue to run in the desktop version of Internet Explorer.
Another feature of Windows 8 is DirectAccess, which allows remote users to access resources inside of a corporate network without having to launch a separate connection to the network, such as a virtual private network (VPN). To use DirectAccess, companies need to use Active Directory Domain Services and Windows Server 8.
DirectAccess can help remote users to access internal resources such as line-ofbusiness apps and internal websites. DirectAccess connects client computers to the internal network when the computer connects to the Internet. Administrators can monitor connections and remotely manage client computers that are using DirectAccess to connect to the Internet.
In standard VPN connection scenarios, users must connect to the corporate intranet through a VPN client. Users must start the VPN client, and remote computers can?t be accessed by business servers unless this connection is established. Updates or other notifications cannot be pushed from the corporate intranet to mobile users unless this connection is started by the mobile user. DirectAccess eliminates the need for users to manually sign in to the corporate network with a VPN client.
There are also improvements in printing. "IT pros can use Hyper-V and failover clusters of print servers to remove the need for special drivers. If one of the virtualized print servers fails, another automatically starts. In the event of a hardware failure, the virtual print server restarts on the next Hyper-V server in the cluster. Print jobs that are sent from client computers running Windows 8 to a printer that is shared on a server running Windows Server 8 go directly to the local branch office printer. ... Administrators no longer need to load different driver packages onto the print server for different client computer architectures. In addition, when the print server is running Windows Server 8, clients running Windows 8 don?t need to download a driver to use a printer that works with the Windows Server 8 print driver model."