Windows Live Essentials 2011 Available For Download
Microsoft's Windows Live Essentials 2011 for Windows 7 and Windows Vista is now available for
download
. Windows Live Essentials 2011 was designed and built to connect your PC to the services you use every day. Microsoft also announcing today that Dell will be the first global PC manufacturer to ship PCs with Windows Live Essentials 2011 and Windows 7 pre-installed.
Today?s final release addresses 95% of all bugs reported by beta users, Microsoft said.
Windows Live Essentials 2011 was designed from the ground up for Windows 7. You can pin your applications to the taskbar and use jump lists to quickly get to common tasks. The ribbon brings common tasks to the front, letting you filter photos, change your font, or publish to your favorite services in a single click.
For parents, Windows Live Family Safety gives you the tools to help keep your kids safer on the Internet.
If you have more than one PC, or a PC and a Mac, Windows Live Mesh helps you sync your files and folders across your PCs and connect back to your PC from virtually anywhere. Mesh lets Windows 7 customers sync files across their devices, including both PCs and Macs; automatically sync files to the cloud and always keep them up to date; and access their home PC from anywhere with remote desktop through the cloud. Mesh also gives users 5 free gigabytes of storage on Sky Drive, a free cloud storage service from Microsoft.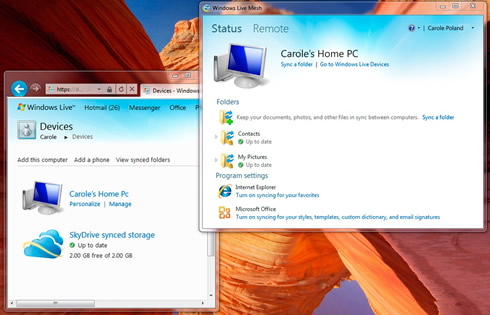 Windows Live connects your Windows PC to the services you use every day. Use Window Live Photo Gallery to share photos with your friends on SkyDrive, Flickr, SmugMug, Facebook, and more. Users can search based on metadata like geo-location tags and date stamps. New facial recognition technology helps find and organize photos by people.
New editing tools will help make those photos look great. Photo Fuse lets users combine the best parts of a picture series into one perfect photo. With Retouch, users can remove blemishes or other imperfections with a few clicks.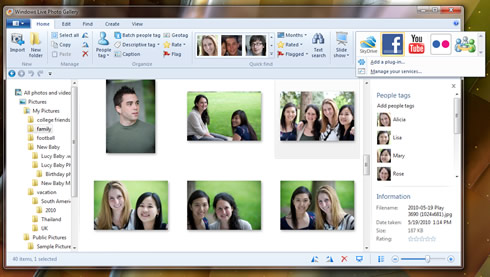 With Movie Maker, a few clicks transform photos into a movie slideshow that can be sent to friends and family. The new app includes transitions and visual effects. The AutoMovie feature can take a series of photos and quickly build a movie with transitions and music based on a personalized theme that the user selects. It also automatically uses captions and tags captured in Photo Gallery to create titles, captions and credits. As with Photo Gallery, users can share their movies with the people they care about across their networks.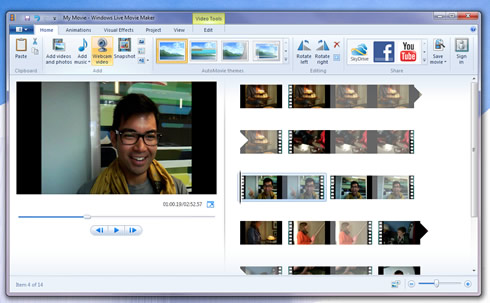 In addition to the familiar IM service, Messenger now brings together all the content from a user?s social networks. It incorporates updates and newsfeeds from sites such as Facebook and MySpace, and lets users comment on them right from Messenger. Users can share photos across their networks, plus Messenger allows you to view friends? photo galleries from Facebook. Inline video eliminates the need to leave Messenger to watch YouTube videos that friends post.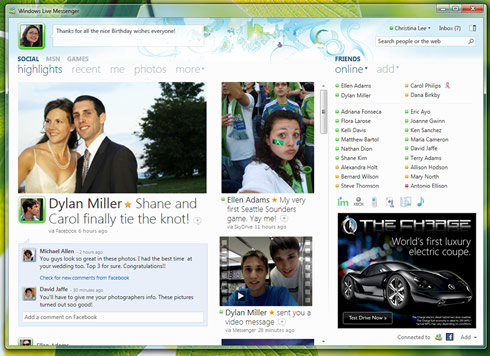 The Windows Live team also included updates to improve chat. For example, high-definition video chats are now available through Messenger. And users can hold multiple conversations at the same time through the new tab chat feature. Facebook chat, another feature, lets people IM across networks.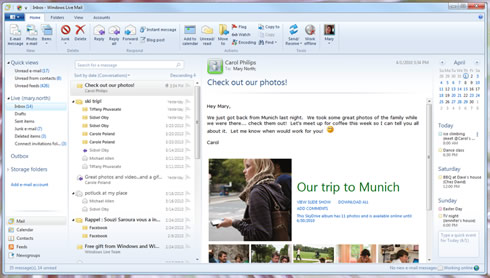 Windows Live Writer allows you to update your blog on Wordpress.com, Blogger, TypePad, and many more blogging services.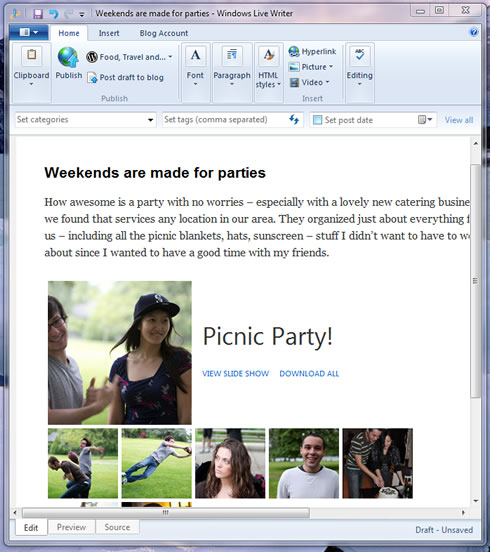 Windows Live Mail also allows you to keep track of your email from Hotmail, Gmail, Yahoo, and more.
Windows Live Essentials 2011 is being released in 48 languages. If you?re running Windows Vista or Windows 7 on your PC, make sure you have the latest Windows updates installed before you install Windows Live Essentials. If your computer is still running Windows XP, you can, of course, continue to use the current Windows Live Essentials software.