Xbox One Is Luxuriously Spacious Inside
The Xbox One is lanching on Friday and the firs teardown of the device shows tha it's a high-end PC inside with most space covered by a huge fan/heatsink for the processor, a 2.5-inch HDD and a Blu-ray drive. Reporting from New Zealand, iFixit.com posted photos and information of the internal components of the Xbox One.
At a first glance, the device is spacious on the inside in order to avoid reasonable overheating issues. Don't forget that the Xbox One doesn't have an internal power supply.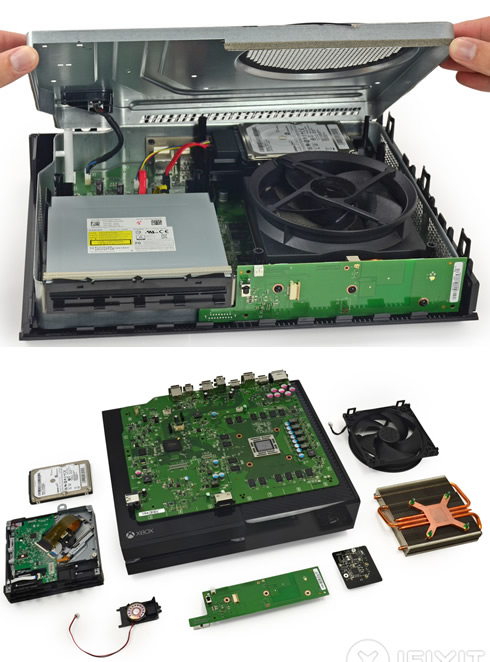 The half-height Blu-ray/DVD drive is connected to the motherboard via SATA data connector. The DG-6M1S-01B ver.070D BD-ROM shown in the pictures is made by Philips & Lite-ON Digital Solutions, while the IC's inside the drive have the following labels: Microsoft MS0DDDSPB1 1326-BTSL ATNGS501 and Texas Instruments 37T AVY7.
The Xbox One doesn't officially feature a replaceable hard drive but still, it uses a a standard 2.5 inch SATA II drive:
Samsung Spinpoint M8 ST500LM012 500 GB 5400 RPM with 8MB Cache. Although this one could be replaced, such an action would void yor Xbox One's warranty.

The device is kept cool using a 112mm diameter low-height fan a heat sink - both easily replaced if required.

The main board features the following ICs:

- X887732-001 DG3001FEG84HR (includes AMD "Jaguar" Cores CPU + AMD Radeon Graphics GPU)
- SK Hynix H5TQ4G63AFB 4 Gb (512 MB) DD3 SDRAM (total of 16 x 512 MB = 8 GB)
- X861949-005 T6WD5XBG-0003
- SK Hynix H26M42003GMR 8 GB eMMC NAND Flash
- ON Semiconductor NCP4204 GAC1328G Integrated Power Control IC
- Realtek RTL 8151GNM Ethernet Controller
- Texas Instruments TPS2590 3-V to 20-V High Current Load Switch

The Wi-Fi board features the following:

- Marvell Avastar 88W8897 2x2 MIMO Wi-Fi Combination Radio Chip Supports 802.11ac, NFC, Bluetooth and Wireless Display
- Marvell Avastar 88W8782U WLAN SOC w/USB 2.0 Interface Support

iFixit hasn't finished its teardown yet, so visit take a look at the article here.

Microsoft is betting its first new video game console in eight years will help sustain its position as a dominant player in gaming hardware. It also hopes to build a business that plays a bigger role in how people watch television and consume media content.

The console has received early positive reviews for its performance, interface and exclusive launch gameslike "Forza Motorsport 5" and "Ryse: Son of Rome."

As a family entertainment center, the device comes with features like voice control via its Kinect input device and the ability to integrate it with cable boxes. It also comesloaded with Netflix and other media apps. But Microsoft also launched its Xbox Music app, a digital music service that vies with Apple's iTunes, last year.