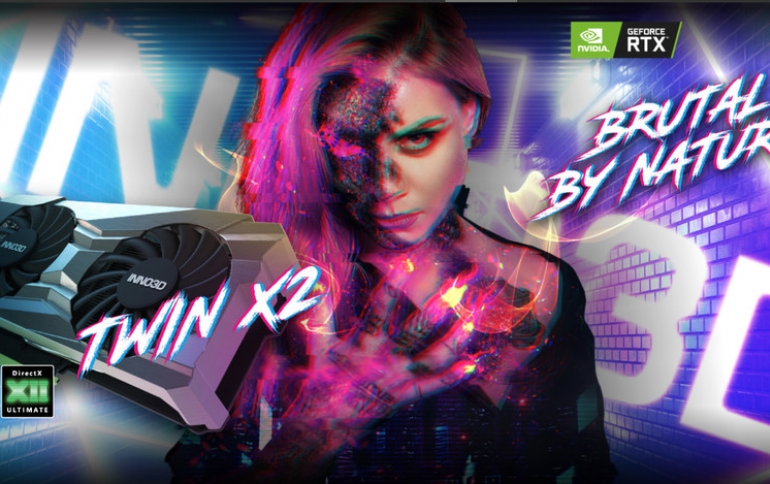 Zotac and Inno3D introduce new RTX3050 graphic cards
INNO3D, a leading manufacturer of pioneering high-end multimedia components and innovations is excited to announce the new addition INNO3D NVIDIA® GeForce RTX™ 3050 TWIN X2 / OC to the RTX 30 Series line-up powered by the advanced NVIDIA® Ampere architecture - cooled with dual 9cm fans to maintain optimal level temperature when this card is powering your gaming session.
 
Founded in 1998 with the vision of developing pioneering computer hardware products on a global scale. Fast forward to the present day, INNO3D is now well-established in the gaming community known for our innovative and daring approach to design and technology. We are Brutal by Nature in everything we do and are 201% committed to you for the best gaming experience in the world.
 
The GeForce RTX™ 3050 GPUs brings the performance and efficiency of the NVIDIA Ampere architecture to more gamers than ever before and is the first 50-class desktop GPU to power the latest ray traced games at over 60 fps. The RTX 3050 comes equipped with 2nd generation RT cores for ray tracing and 3rd generation Tensor cores for DLSS and AI. Ray tracing is the new standard in gaming and the RTX 3050 makes it more accessible than ever before.
 
Click below for product pages
TWIN X2 / OC Cooling
Our most popular graphics cards come in the TWIN X2 / OC spec, and the INNO3D GeForce RTX 3050 is not exempt from this rule. With two large 9cm scythe fan blades and a heat sink surface area of 360477mm² for the overclocked version providing excellent temperature control enabling the card to perform at the most optimal level, for the factory overclocked OC version these cooling features are especially important so that the card can run at higher clock speeds without sacrificing gaming performance. To protect your graphics card from unintentional bending we've added an INNO3D back plate to reinforce the card which allows you to place it in any position without worry.  
Years of R&D has allowed INNO3D to make technological advancements, continuously pushing the boundaries and bolster their expertise in the GPU industry. It has elevated INNO3D to a point that makes a difference for high-end gamers and design creation professionals achieving high performance with outstanding temperature control and at super quiet noise levels.  
INNO3D is now working hard to make the new INNO3D GeForce RTX 3050 GPUs available at all premium resellers across the region.
ZOTAC Technology Limited, a global manufacturer of innovation, announces the two latest innovations with the opening of CES 2022 which include the all-new ZOTAC GAMING GeForce RTX™ 3050 Series and the latest ZBOX MAGNUS Mini PC equipped with an NVIDIA GeForce RTX™ 3080 GPU.

ZOTAC GAMING GEFORCE RTX 3050 SERIES
The newest additions to the GeForce RTX 30 Series family powered by the advanced NVIDIA Ampere architecture include the ZOTAC GAMING GeForce RTX 3050 Twin Edge OC and 3050 Twin Edge models featuring ZOTAC GAMING's powerful ICESTORM 2.0 cooling system.

The GeForce RTX 3050 brings the performance and efficiency of the NVIDIA Ampere architecture to more gamers than ever before and it comes equipped with the 2nd generation RT cores for ray tracing and 3rd generation Tensor cores for DLSS and AI.

OPTIMIZED COOLING
The ZOTAC GAMING GeForce RTX 3050 Series features a compact size with just 8.8 inch (224.1mm) in length in a dual slot configuration. The refined cooling solution consists of a wide aluminum heat sink, paired with copper heat pipes and dual 90mm 11-blade fans to deliver more efficient heat dissipation. The designs also feature a metal backplate for more durability, while advanced features like FREEZE Fan Stop and Active Fan Control enable quieter and smarter cooling.

DO MORE WITH LESS
The ZOTAC GAMING GeForce RTX 3050 Series delivers the lowest power draw among the 30 series line-up, yet it gives the power gamers need to run most of the new titles smoothly while utilizing the latest technologies from the NVIDIA Ampere
architecture.

AVAILABILITY
The ZOTAC GAMING GeForce RTX 3050 Series will be available starting January 27th, 2022.

ZOTAC ZBOX MAGNUS EN173080C
The latest MAGNUS EN Series packs next-gen performance on par with even some desktops in a thin and small chassis only 2.65 liters in volume.

THE MINI POWERHOUSE
Featuring an Intel® Core™ i7 processor, NVIDIA GeForce RTX™ 3080 Laptop GPU and premium connectivity, MAGNUS EN173080C tackles demanding creative workloads with unmatched speed, boosts your productivity and creative workflow, and delivers an immersive gaming experience with support for advanced technologies including ray tracing and DLSS.

With the newly introduced NVIDIA Omniverse™, the MAGNUS EN Series empowers 3D content creators and digital artists to work seamlessly across popular creative apps to compose and visualize scenes in real time and collaborate with others in a
shared scene and accelerate creative workflows.

PREMIUM CONNECTIVITY
Push productivity further and enhance the view with a multi-display setup by taking advantage of HDMI and DisplayPort. Also, the Thunderbolt 4 port enables fast transfers with compatible external storage to streamline your workflow or gameplay.

UPGRADE WITH EASE
MAGNUS EN173080C allows convenient customization or upgrades to memory and storage with tool-less access to SO-DIMM memory slots, Intel® Optane™ Memory, M.2 SSD, and a 2.5 inch HDD/SSD bay for simple expansion.

AVAILABILITY
Available in Barebones or Windows configuration with 16GB DDR4, 512GB M.2 SSD, 1TB 2.5 inch HDD storage and Windows 11 Home pre-installed.