Acer Launches Aluminum Chromebook 14 At A Budget-Friendly Price
Acer on Tuesday revealed its first 14-inch Chromebook, featuring an an aluminum chassis, USB 3.1 ports, a 14-hour battery life -- all for $300. The Chromebook 14 comes in two versions with either a 1080p or 1366-by-768 resolution IPS display. The 1080p models feature a 12-hour battery-life. Th device comes with either a quad- or dual-core Celeron processor, two USB 3.1 ports (Type A), HDMI out, a 720p webcam, dual-band 802.11ac Wi-Fi, 16GB or 32GB onboard eMMC storage, and either 2GB or 4GB of RAM.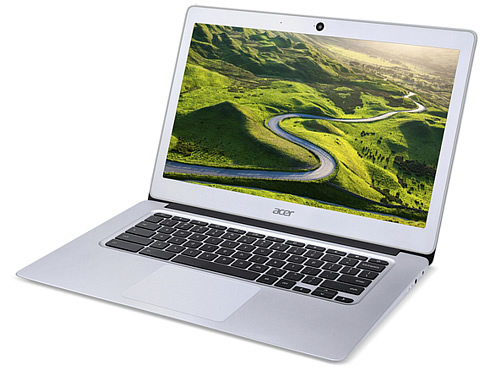 Best Buy will start carrying a model with 32GB of storage, 4GB of RAM, a 1080p display, and a dual-core processor next month, priced at $300.