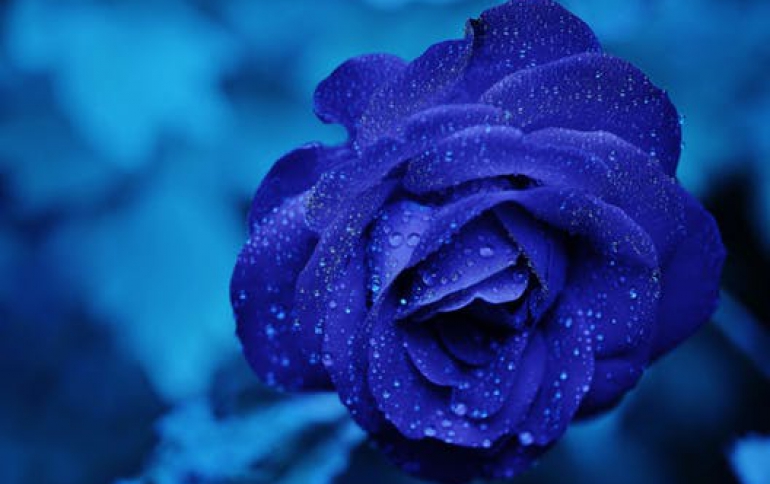 Acer Unveils New Z3100 All-in-One Desktop PC, Aspire Predator AG7750
Acer rounded out its Acer Aspire "Predator" gaming desktop PC line-up with a new mainstream model. The company also added the Acer Aspire Z3100 to its sleek all-in-one (AIO) desktop line.
Aspire Predator AG7750
Acer is currently offering gamers choice of the high-end Aspire Predator AG7750 and the Aspire Predator AG5900-U3092, engineered to excite mainstream gamers.
Both models are strong in style and specs, which include Intel Core i7 quad-core processors, 1.5TBhard drives and Windows 7 Home Premium.
Aspire Predator AG5900
The newest model in the Predator line, the Predator AG5900-U3092 sports a clean and sophisticated exterior. For easy access, the power button, four USB ports as well as headphone and microphone jacks are angled on the top of the system along with a storage tray for storing and charging smart phones, digital cameras and other devices. Handy cable management is provided via grooves in the storage tray that allow different sizes of cable to snap in between, which prevents tangling and having to fumble around to find loose cables. It also has four hard drive bays, two of which are easy-swap, enabling extra hard drives to be inserted without opening the box. Users just push on the protective door and the hard drive slides out on a tray.
The AG5900 is ready for battle with 8GB DDR3 SDRAM and an Intel Core i7 870 processor with Intel Turbo Boost Technology. It also comes equipped with an 1.5TB SATA hard drive and ATI Radeon HD 5850 graphics with 1GB of discrete video memory, ATI Eyefinity Technology and full support for Microsoft DirectX 11. Also, dynamic high-def 5.1-channel audio infuses games with heart-pumping sound.
This system is outfitted with a multi-in-one card reader and a combo/DVD super-multi optical drive . For those wanting to invest in future upgrades, the AG5900 is expandable with an available 5.25-inch optical drive bay, three open 3.5-inch HDD bays as well as two open PCI Express x1 slots and a standard PCI. There is a host of connectivity options including 12 total USB 2.0 ports (four on top, eight in back), an HDMI port, three audio jacks, an Ethernet port, display port and two DVI ports. To simplify transport, the system comes with a handle.
Aspire Predator AG7750
The Predator AG7750-U3222, Acer's premium gaming system is featuring a bold design and advanced performance features. Boasting a NVIDIA GeForce GTX470 with NVIDIA SLI technology, this dynamic system can scale performance by combining multiple NVIDIA graphics solutions in a 3-way SLI-certified motherboard, which can run up to three GPUs simultaneously. NVIDIA GeForce GTX470 also enables the system for 3D gaming. High-definition 7.1-channel audio with EAX (Environmental Audio Extensions) 5.0 is also available for immersive surround sound.
The Predator AG7750 is packed with an Intel Core i7 930 quad-core processor with Intel Turbo Boost Technology and 12GB SDRAM. The two-part liquid cooling system keeps the system cool even during intense gaming sessions.
Three additional easy-swap hard disk drive (HDD) cages allow up to a total of four Serial ATA 3 Gb/s high-capacity hard disks to be added with up to a 2TB capacity per single drive for a total storage capacity of up to 8TB.
The Predator AG7750 has an optical drive and is easily with an available 5.25-inch optical drive bay and a variety of open PCI Express slots, including two PCI Express x16, two PCI Express x1, one PCI Express x8 and a standard PCI. The AG7750 also offers a host of connectivity options including 11 USB 2.0 ports (five in front, six in back), IEEE 1394, two eSATA ports, two Ethernet ports, two DVI-D ports (up to six with three graphics cards), five audio jacks and various others.
The new Acer Aspire Predator models are available now at electronic retailers and come with a one year parts and labor limited warranty and toll-free technical support. The Acer Aspire Predator AG5900-U3092 has a MSRP of $1,349.99 and the Acer Aspire AG7750-U3222 has a MSRP of $1,999.99.
Acer Aspire Z3100
Acer is aiming to top holiday wish lists with the expansion of its sleek all-in-one (AIO) desktop line. Its newest model, the Acer Aspire Z3100 features a 21.5-inch HD display and contemporary aesthetics. Acer has also pumped up the performance on its stylish, state-of-the-art Aspire AZ5700 with a 23-inch HD multi-touch display.
The Acer Aspire AZ3100-U3072 with an integrated 21.5-inch LCD display, a wireless keyboard. Contributing to the aesthetics is a compartment on the side of the chassis for managing cables as well as room under the elevated chassis for hiding the keyboard when not in use.
The combination of the HD display's 1080p resolution and NVIDIA GeForce 9200 graphics enrich entertainment with sharp images and smooth video transitions.
An AMD Athlon II 170u (2.0GHz) processor and 3GB DDR3 SDRAM provide plenty of power for surfing the web, email and casual games. The PC also comes with a 500GB hard drive, it has 5.1 channel audio and two built-in speakers for dynamic sound quality as well as an optical drive. It also provides an integrated webcam and microphone, HDMI and six USB 2.0 ports for connecting to an array of peripherals and digital devices.
The AZ3100 also comes with Windows 7 Home Premium, 802.11 b/g/n wireless, Gigabit LAN and a wireless keyboard and mouse. The Aspire AZ3100-U3072 is available at leading retailers with a ma
nufacturer's suggested retail price of $599.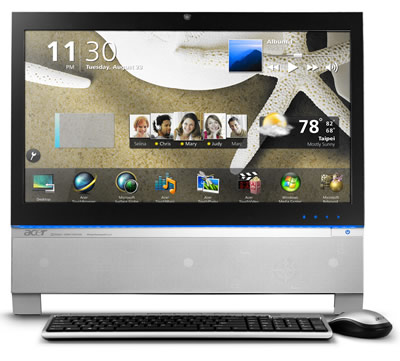 Acer Aspire AZ5700-U3112
The Acer Aspire AZ5700 all-in-one with a 23-inch HD display also boasts chic styling. Multi-touch technology enables users to interact with the PC using multiple fingers as they would a mouse. They can open and close programs, browse online newspapers, flick through photo albums and shuffle files and folders, using nothing but their hands.
Fueled by an Intel Core i5 650 processor (3.2GHz), 4GB DDR3 SDRAM and Intel HD graphics, this desktop has enough power for speedy multitasking and realistic imagery for movies, digital video, social networking and casual games. Digital media lovers will appreciate the dynamic high-def 5.1 channel audio, optical drive and 1TB SATA hard drive. In addition to a wireless keyboard and mouse, the system provides HDMI and six USB 2.0 ports.
In addition to Windows Home 7 Premium, the Aspire Z5700 comes with the Acer TouchPortal, a suite of applications designed to synchronize life, the PC and Internet with all-in-one touch control. These applications include TouchMusic, TouchPhoto, TouchVideo, TouchBrowse, TouchCam, TouchMemo, TimeGadget, WeatherGadget and TouchFriends.
The Acer Aspire Z5700-U3112 is available at leading retailers with a manufacturer's suggested retail price of $1099.