16. Other Motherboard Benchmarks
ASUS A8N-SLI Deluxe - Page 16
Other Motherboard Benchmarks
For testing the motherboard, we used 3 benchmarks. One concerning overall performance (PCMark04) and two for checking out the integrated graphics processor (Aquamark03, 3DMark01). The later two are known for their dependence on the CPU processor so there's no fear of us concentrating solely on the GPU.
- PCMark04
PCMark04 is an application-based benchmark and a premium tool for measuring overall PC performance. It uses portions of real applications instead of including very large applications or using specifically created code. This allows PCMark04 to be a smaller installation as well as to report very accurate results.
ASUS A8N-SLI Deluxe with ASUS Extreme N6600GT

PCMarks

2222

File Compression

3.2 MB/s

File Encryption

35.1 MB/s

File Decompression

27.2 MB/s

Image Processing

13.7MPixels/s

Virus Scanning

2406.2 MB/s

Grammar Check

3.6 KB/s

File Decryption

70.0 MB/s

Audio Conversion

2994.0 KB/s

Web Page Rendering

5.3 Pages/s

WMV Video Compression

53.4 FPS

DivX Video Compression

68.3 FPS

Physics Calculation and 3D

198.8 FPS

Graphics Memory - 64 lines

0.2 FPS
It should be noted that because of compatibility issues with SLI motherboards, the "Physics Calculation and 3D" reading and the "Graphics Memory - 64 lines" reading should be ignored. As new software patches become available, we will update these readings with new ones. The total PCMarks achieved are reduced because of these faulty readings.
- 3DMark01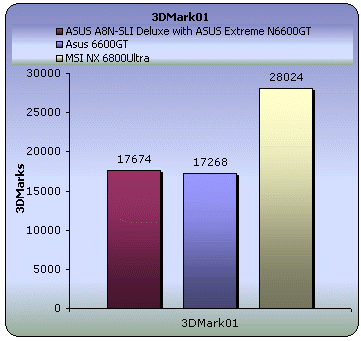 In 3DMark01, the Duali-GPUs architecture achieved slightly higher 3DMarks than the single ASUS Extreme N6600GT but it cannot be compared with the 6800Ultra GPU.
- Aquamark03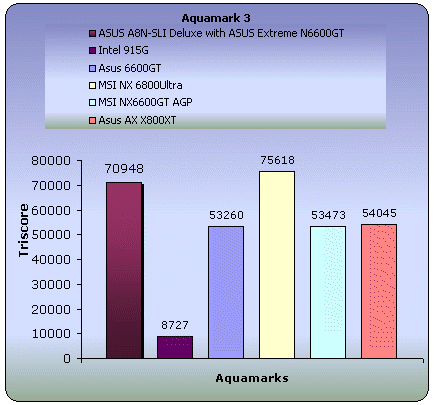 When two 6600GTs were combined, we observed a great boost in performance, achieving a total Aquamark score of 70948, which is slightly lower than the 6800Ultra score, but much greater than the ASUS N6600GT functioning in single mode.