8. 3DMark 2003
ASUS A8N-SLI Deluxe - Page 8
3DMark 2003

3D Mark is a widely used and accepted benchmark that stresses the DirectX performance of a VGA card. A very strong point of 3DMark is that its VGA card measuring does not require any CPU power. So the resulting fps are a good reference of a VGA card's rendering performance. For testing the performance of each card, we used the 4 game benchmarks from 3DMark.
3Dmark03 also includes sound and CPU tests as well as some other feature tests.
- Game Test 1 - Wings of Fury (DX7)
This test is a combat flight simulator written for older hardware (DirectX 7). Particles are used a lot in this test - smoke and vapor trails, flak and gunfire, and explosions are produced using point sprites and quads.
- Game Test 2 - Battle of Proxycon (DX8)
This test is a simulation of a first person shooter game. 1.1 and 1.4 Vertex shaders are widely used since all character models are skinned using vertex shaders.This makes this test a good vertex shader comparison for VGA cards.
- Game Test 3 - Trolls' Lair (DX8)
This test should be the favorite of all RPG lovers. It is a cut scene of a female warrior facing two malicious trolls. Again, the same vertex and pixel processing is used as in game test 2.
This test also uses post-processing effects, such as Depth of Field and Bloom effects which are widely used in today's game cut scene sequences.
- Game Test 4 - Mother Nature (DX9)
Mother nature represents the level of effects and realism that are possible using 2.0 vertex and pixel shaders, plus some other features that DirectX 9 offers.
Going back a few pages in this review, you will see a small explanation of how SLI works and how the graphics processing load is shared between the two cards. In all the game tests of 3DMark03, the SLI cards managed once again to perform even better that the MSI NX6800Ultra GPU. But, you can see that in Wings of Fury, the two graphics cards could not even get close to MSI's card. In this game, most scenes are divided into high demand and low demand sections. For example, in the upper part of a moving image, you might see aeroplanes flying, shooting and burning, while in the bottom nothing happens. This means that NVidia's advanced dynamic load balancing algorithms should give 70% of the image to one card and 30% to the other. Although results were not bad (for game test 1), a 60/40 load was delivered. We believe that NVidia will further improve these algorithms in a future driver release to deliver more fps in games such as this (DX7).
- 3DMark Official score
If you test your machine with 3DMark you can post the results at 3DMark's online results page. For more information visit futuremark.com.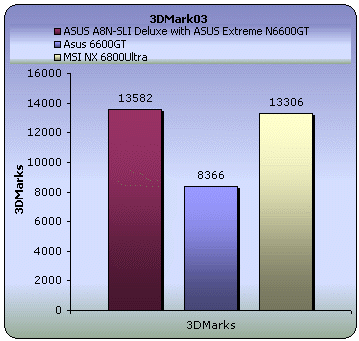 As expected, the SLI Multi-GPUs received the best 3DMark03 score.