18. Bundled Software & Overclocking
ASUS A8N-SLI Deluxe - Page 18
Bundled Software & Overclocking
Except for the WinDVD Suite (OEM version) and System Security software that is included in the retail package, ASUS offers a set of utilities and monitoring tools for the A8N-SLI Deluxe.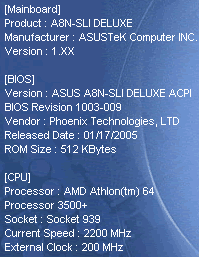 - PC Probe utility
ASUS PC Probe is a very simple utility that monitors vital information in the computer such as fan rototation speed, voltages and temperature. It also gives system information about hard disk space, memory usage, CPU type and processor speed. It resides in the taskbar and provides audible warnings through the PC speakers if certain thresholds, such as temperature and voltage, have been exceeded. If your system is overclocked, remember to raise the appropriate warning limits or face frequent warning pop-ups.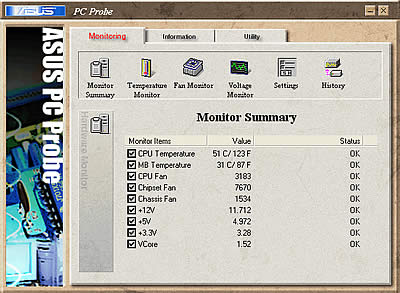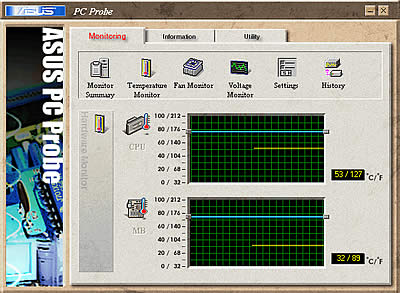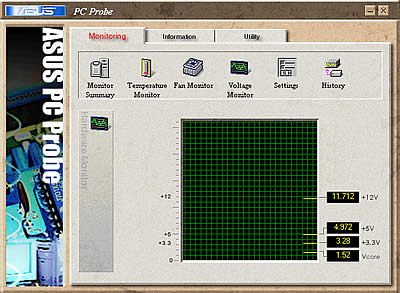 - PC Probe utility
Cool'n'Quiet™ technology is an innovative solution available on AMD Athlon™ 64 processor-based systems that can effectively lower the power consumption and enable a quieter-running system while delivering performance on demand, for the ultimate computing experience. The main benefits of this technology is reduced heat outputs and a quieter system. According to the ASUS Cool'n'Quiet monitoring utility, the AMD64 3500+ processor was tuned to 1000MHz with Cool'n'Quiet enabled.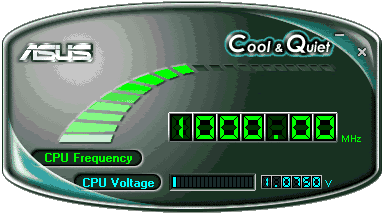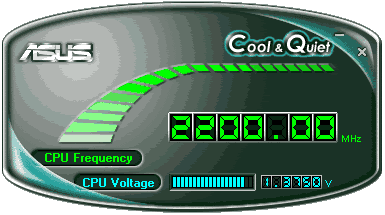 - Asus Update utility
This is also a very simple utility for updating the BIOS of your board.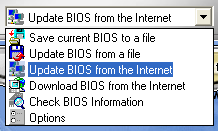 - NVidia NTune utility
The NVIDIA® nTune™ is the easiest, fastest, and safest performance optimization and monitoring application available for your PC. Incorporating more features than any other system tuning or monitoring product, NVIDIA nTune is the only performance tuning application designed exclusively for your NVIDIA nForce-based PC. With NVIDIA nTune your system can automatically adjust to maximum performance settings for intense gaming or will detect that you've inserted a DVD and will set the system to quiet operation. This intelligent application offers the safest way to change bus speeds, memory timings, and even tweak voltages. Changes are made easily within a simple-to-use Windows interface. So you no longer need to make changes to the BIOS or reboot your system.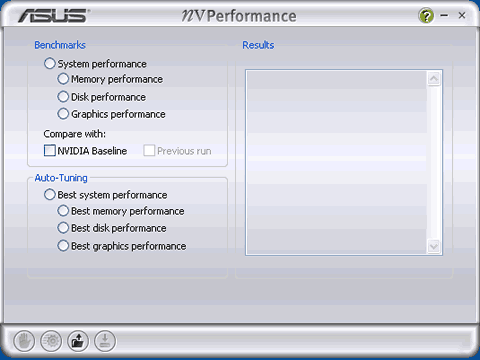 - AI Booster utility
ASUS AI booster aims to overclock your PC without the need to do it through BIOS setup utility. You can now use this easy to use graphical interface. AI Booster will boost up your system's performance real time, without the need of restarting.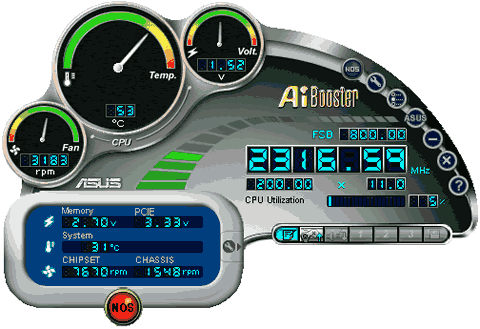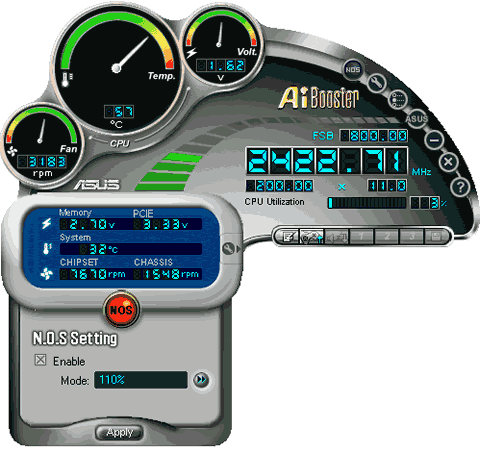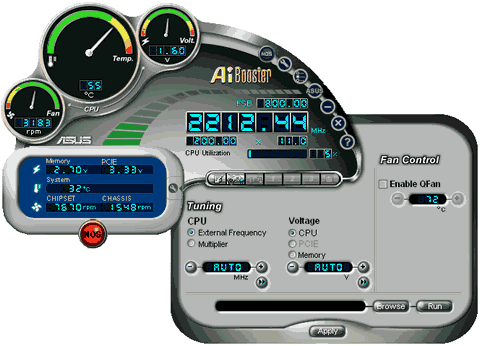 As you can see, AI booster has all the overclocking option that can be found in the BIOS utility. Again, we were able to clock up our AMD64 3500+ CPU to 2422.71MHz with no problem.