9. Overclocking, conclusion
- Overclocking
In order to ovreclock the card you should first enable the ATI Overdrive function found under the Catalyst Control Center. The 'Auto tune' function will test the graphics card's limits and will give you a stable operation. Most of the times the results are lower than what you can get with manual testing: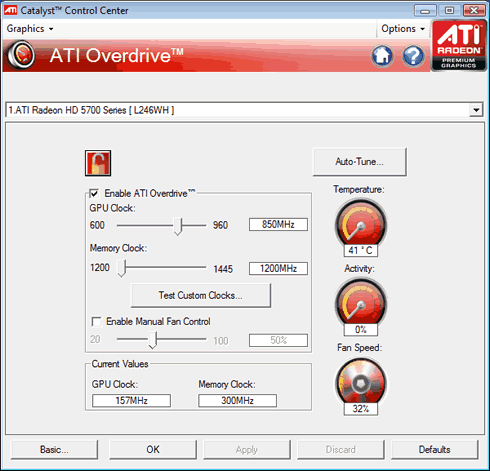 After several testing attempts and after running the the Crysis stress test, we managed to get a 940MHz for core and 1345MHz for the memory, which was totally stable for us. Note that the fan speed was set to automatic. Enabling a higher fan rotation may lead to higher performance but also to more noise:
- Conclusion
The Club3D HD5770 is actually an improved version of the ATI HD5770, at least for the cooling part. The new HD5770 series offer a very good performance in all cases and even with the newest demanding games such as the Dirt 2, it will give you high rates at 1920x1200 with 'High quality' settings enabled: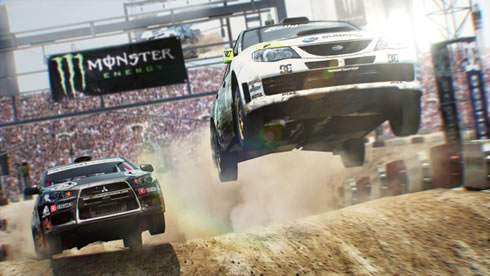 Dirt 2

Detail Level

1920x1200
(Average)

Medium

64.40

High

42.80

Ultra

38.20
The HD5770 series also support the ATI Eyefinity technology, which offers the ability to connect one to up-to six monitors (depending on AIC/AIB choices in outputs) to your videocard and use it in a desktop environment, or to create an incredibly wide monitor resolution to play games in. It's nice, it is niche and certainly not an option many of you will use. Although we did not test it this review, it would be useful for first person shooter gamers for sure.
The card also allows hardware acceleration for video playback and has a retail price of ~ €144, providing a great value value/money ratio. Actually we could say that it is the strongest graphics card you can get at this price tag, considering that is supports DirectX 11.
| | |
| --- | --- |
| Graphic card series | Retail price range |
| Nvidia GTS 250 | 115~136 Euro |
| Nvidia GTX 260 | 189 Euro |
| Nvidia GTX 275 | 230~255 Euro |
| ATI HD4890 | 159 Euro |
| ATI HD4770 | 144~169 Euro |
Overclocking is also allowed with good margins although getting very high clocks would need you to force the fan work in higher rpm, which produces more noise.
If we had to list a negative that would be the big performance drop as soon as we enabled the anti-aliasing, something that could be hopefully a driver.
So the Club3D HD5770 seems to be an excellent performer for DirectX 9, 10 & 11 game titles. The 40nm design of the GPU allowed AMD and its partners to offer a winner product. AMD is moved to attack the sub-$200 market, while it managed to keep the momentum going with the Radeon HD 5770 and 5750. Until we see something faster from Nvidia, we have no problem suggesting this graphics card for everyone who cannot spend a fortune to power the graphics of their gaming system. This series is the first ever mid-range DX11 class product series that is affordable, comes with a great feature set, and is highly competitive performance wise.