1. Introduction
Club3D has been one of the leading VGA vendors in Europe. Apart from the production of all widely known ATi and Nvidia based graphics cards, recently they have set up a collaboration with S3 and XGI, introducing some alternative solutions into the market.
Club3D provided us with one of their first XGI cards, the entry level Volari V3XT AGP.
- Packaging/Bundle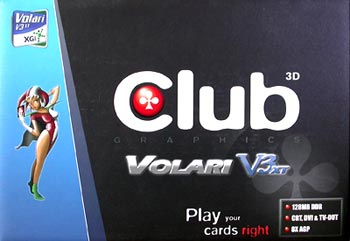 Club3D Volari V3XT
The Club3D Volari V3XT ships in the Club3D package pictured above. Some of the card's features are printed on the bottom right corner of the box such as the 128MB DDR, CRT/DVI/TV-OUT and 8X AGP.
Inside the box you'll find a CD-ROM containing the XGI Reactor Drivers, the XGI User Guide along with an HDTV/TV-OUT cable.