8. Conclusion
Sincerely, the V3XT is not to be used for 3D games. It is still suitable for playing DirectX 7 and maybe a few DX8 games but the framerates are just too low to enjoy playing. However, all is not lost for the Volari V3XT. Even if it's not manufactured by either Nvidia or ATi, as is the case with most of the cards we're used to, XGI still holds an ace up its sleeve. The card's automatic color adjustment for Video playback seems to work well, creating an excellent Video playback experience. The colours are more vivid and bright and along with the passive cooling on the card, the V3XT is a good choice for Home Theater computers.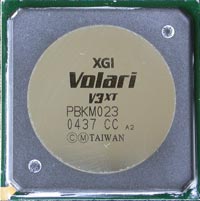 The Club3D Volari V3XT costs around €50 as do most entry level cards. We can't say that the card is excellent value for money but on the other hand, no likewise priced card ever is. Still, as it doesn't get any cheaper, the Club3D Volari V3XT could be a good choice for box PC systems tailored towards the Home Entertainment market.
The bundle with the card doesn't include any games but only a CD-ROM with the XGI Reactor drivers, XGI's Undersea Lab and XGI's User Guide for the card.
Pros:
- Silent operation
- Good video image quality
Cons:
- Unsuitable for games

| | |
| --- | --- |
| Performance/Features: | |
| Value for money: | |
| Bundle: | |