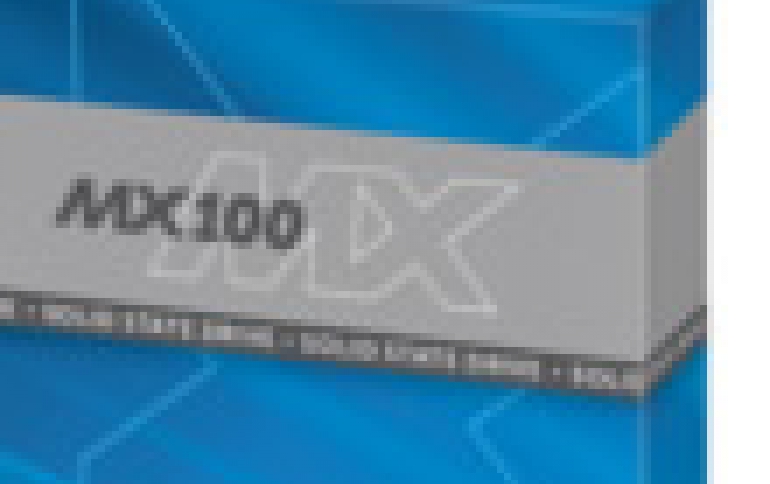 Crucial Introduces the MX100 SSD, DDR4 Memory Modules For Servers And Enthusiasts
Crucial officially announced today the new Crucial MX100 solid state drive (SSD), along with the new Crucial Ballistix Elite DDR4 memory for gaming systems and DDR4 memory for servers. Available in 128 GB, 256 GB, and 512 GB capacities with respective MSRPs of $79.99, $109.99, and $224.99, the new Crucial MX100 carries a low cost per gigabyte.
The MX100 is Crucial's new mainstream drive, replacing the popular M500. The MX100 builds on the same architecture as the M500 and M550. Their only fundamental difference is the NAND inside as the controller is the same Marvell 88SS9189 silicon as found inside the M550.
The Crucial MX100 256 GB and 512 GB drives utilize Micron's new 16 nanometer (nm) 128 Gb NAND, in addition to a SATA 6 Gb/s controller and custom firmware, to deliver up to 90,000 input/output operations per second (IOPS). It offers 550/500 MB/s sequential read/write speeds on both compressible and incompressible data.
Crucial MX100 Specifications

Capacity

128GB

256GB

512GB

Controller

Marvell 88SS9189

NAND

Micron 16nm 128Gbit MLC

DRAM

Sequential Read

550MB/s

550MB/s

550MB/s

Sequential Write

150MB/s

330MB/s

500MB/s

4KB Random Read

80K IOPS

85K IOPS

90K IOPS

4KB Random Write

40K IOPS

70K IOPS

85K IOPS

Endurance

72TB (~65GB/day for 3 years)

Encryption

AES 256-bit, TCG Opal 2.0 & IEEE-1667

Warranty

Three years
The MX100 matches the M550's features. Both power loss protection and hardware encryption (including TCG Opal 2.0 and IEEE-1667 standards) are supported and the endurance rating remains at the same 72TB despite the change in NAND. RAIN (Redundant Array of Independent NAND) is also included to protect against page/block level failures and the parity ratio remains at 127:1 similar to the M550.
Additionally, each Crucial MX100 SSD comes with Acronis True Image HD data migration software that moves all files, operating systems, settings, and programs from an existing hard drive to a newly installed SSD.
Available now in a 2.5-inch 7 mm SATA III form factor, the Crucial MX100 SSD is offered in 128 GB, 256 GB, and 512 GB capacities.
The MX100's main goal is to lower the price by using smaller lithography NAND, and it seems to succeed it. In addition, according to the reviews that have surfaced online so far, it it also provides a minor increase in performance over the M500.
Crucial also today announced new Crucial Ballistix Elite DDR4 memory modules, which deliver the next generation of memory to high performance gaming. Designed for gamers and enthusiasts, the Ballistix Elite DDR4 memory delivers introductory speeds that start at 2666 MT/s and 3000 MT/s and is expected to get faster as the technology matures.

The new modules offer nearly twice the bandwidth of mainstream DDR3 memory at up to 24GB/s. Furthermore, Ballistix Elite DDR4 memory delivers up to 40 percent more power efficiency than standard DDR3 memory
The Ballistix Elite DDR4 modules are optimized for next-generation Intel X99 platforms with support for XMP 2.0 profiles.
The new modules also introduce a new design to the Ballistix line-up, featuring an anodized aluminum heat spreader for improved heat dissipation on a custom-designed black PCB.
Supported by the Ballistix Memory Overview Display (M.O.D.) utility, an integrated thermal sensor allows for real-time temperature monitoring which aids in over clocking efforts.
Available in 4GB and 8GB modules, as well as 8GB, 16GB, and 32GB kits, Ballistix Elite DDR4 memory will be available for purchase from crucial.com and through select global partners in August 2014. Crucial DDR4 desktop memory will also be available in August in four channel kits up to 32GB with introductory speeds of 2133MT/s. All Crucial memory is backed by a limited lifetime warranty.
Crucial is also bringing DDR4 to servers. Available now, the new DDR4 server modules are up to twice as fast and deliver double the memory bandwidth over DDR3 technology when it was introduced (1066 MT/s and 8.5 GB/s with DDR3 vs. 2133 MT/s and 17 GB/s on DDR4), and are expected to get even faster as the technology matures. Operating at 1.2V, Crucial DDR4 server memory uses up to 20 percent less voltage than DDR3 technology when it was introduced (1.5V).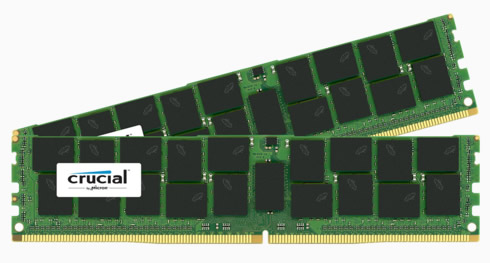 Crucial DDR4 server memory is optimized for future Intel Xeon processor E5-2600 v3 product family-based systems.