Crucial Pro DDR5-5600 32GB Memory Kit
3. Conclusion
Crucial apart from the "normal" DDR5 series also sells at the market, their "PRO" series, which is in fact a more premium looking DDR5 memory with a black matt finish heatsink that will help reduce overall temperatures during gaming and heavy loads. The main PCB/memory configuration seems to be the same as with the previously tested Crucial DDR5-5600 memory kit, and slight performance differences should be taken in mind when buying both memory products. The main advantage is that this product includes both Intel XMP and AMD's EXPO profiles in one kit, so you don't have to worry about which memory module you should buy, for which system. The DDR5-5600 series, recently got a capacity boost up to 96GB of memory modules, which should be more than enough, even for video/AI production tasks.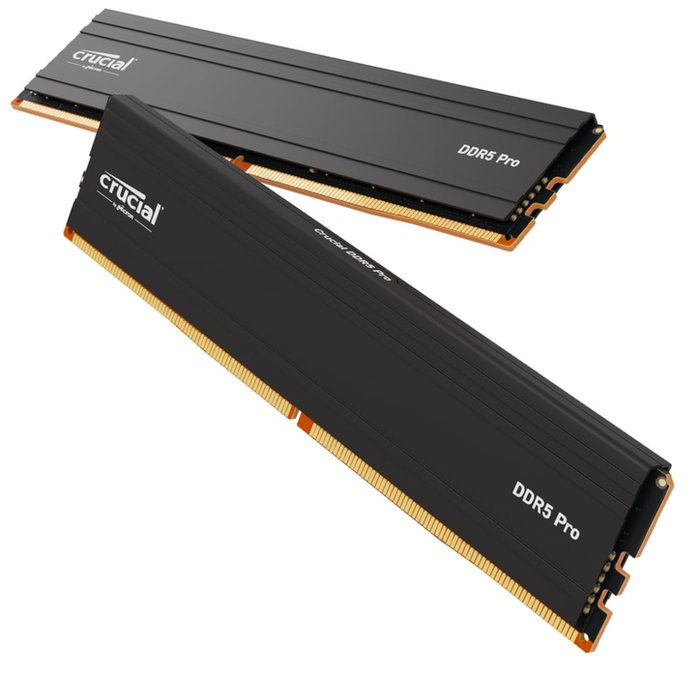 The retail package is simple and you have to tear it in order to move both modules. The included black matt heat spreader does look nice, even if it's a fingerprint magnet. Also, stickers could be moved to the other side, so when both modules get installed not to visible in open /clear cases. Of course, both "issues" are only cosmetic. Speaking of cosmetics, no RGB love at this product, however many users tend to want a clear/black look. The DDR5-5600 is running at a very low 1.10V, resulting in decent DDR5 memory temperatures down to 41 Celsius vs. 56 Celsius for the normal DDR5-5600 version (without heatsink).
While stock timings are rather relaxed, it is possible to further boost performance, either by setting DDR5-6000 over your motherboard bios or trying to tighten cache latency memory numbers, which we found to be kind of hard to accomplish.
The retail price of the Crucial Pro DDR5-5600 32GB Memory kit is around $89.99, making very easy recommendation for most entry-level users, since with a slight voltage increase you will get even higher speeds at DDR-6000 speeds. In case you need more capacity, Crucial has you covered with higher capacities (and higher retail prices). In the future, we would like Crucial to try improving memory timings, which will result in higher overall performance at least for their PRO series.