Four Institutions Use AI to Accelerate The Development of Flexible Transparent Films
Four Institutions used artificial intelligence (AI) to accelerate the delelopment of flexible transparent films.
Showa Denko (SDK), National Institute of Advanced Industrial Science and Technology (AIST), New Energy and Industrial Technology Development Organization (NEDO) and Research Association of High-Throughput Design and Development for Advanced Functional Materials (ADMAT) say that using AI reduced the numbers of experiments for the production of flexible transparent films that satisfy specific properties to the one-twenty-fifth (1/25) or less of those require by usinf conventional development methods.
The researchers have been conducting AI-based searches for polymers that satisfy the properties required for designing flexible transparent films for mobile devices.
As the first step of their research, the researchers produced 27 types of films. The next step was to incorporate chemical information including molecular structures and mole ratios into explanatory variables using a special method named Extended Connectivity Circular Fingerprints (ECFP). They chose the converted transmissivity, braking stress and stretch as objective variables. These three objective variables have "trade-off" relations and are incompatible with each other. Then, the researchers trained the AI using the actual values of these variables.
Following these steps, the researchers prepared data including comprehensively dispersed explanatory variables, trained the AI system using the deviation value and estimated several combinations of materials for films that would maximize the three objective variables at the same ratio.
Then the researchers manufactured three types of films based on the recommendations offered by the AI system. As a comparative experiment, the researchers who prepared the 27 sample films at the first step also made 25 types of films based on their own knowledge and experience. Next, they compared the properties of the three types of films based on a combination of materials recommended by the AI and 25 types of films prepared by the researchers who made the 27 types of films in the first step of the research.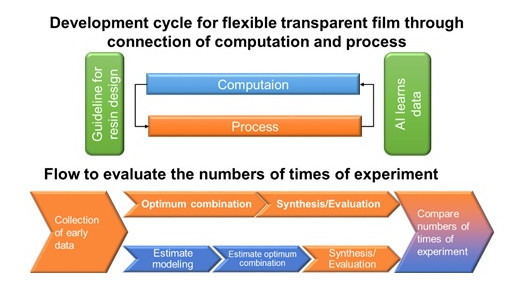 The physical properties of all of the three types of films made based on the combinations of raw materials recommended by the AI showed superiority over those of the 25 types of films made by the researchers.
The researchers plan to further improve this technology and develop a system in which the AI will be able to suggest combinations of raw materials that can produce products with even better physical properties while satisfying the required characteristics.