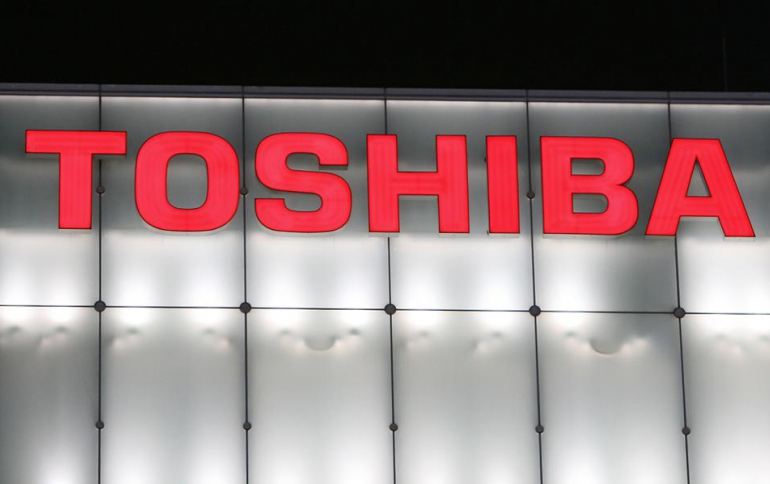 Foxconn, Broadcom And SK Hynix Closer To Toshiba's Memory Buiness
Toshiba semiconductor business sell-off has attracted bids of more than 2 trillion yen (about $18.1 billion) from Hon Hai Precision Industry and Broadcom Ltd, which will compete in the second round of negotiations, according to reports.
According to the Asahi Shimbun, Hon Hai pledged close to 3 trillion yen in the first round of bidding, which closed March 29, sources said on April 6.
The new subsidiary's value is at least 2 trillion yen, Toshiba President Satoshi Tsunakawa has said.
Three other companies have bidded by offering amounts lower than 2 trillion yen: Western Digital; SK Hynix; and U.S. investment fund Kohlberg Kravis Roberts & Co. Taiwanese TSMC has reportedly dropped its bid.
A different report from Bloomberg positions SK Hynix in the place of Broadcom as a qualifier for the final bidding round.
Toshiba spokesman Tomoyuki Numata declined to comment. Hon Hai and Hynix declined to comment.
Toshiba plans to whittle down the candidates in April, and decide the eventual buyer through a second round of bidding by late June, when a general shareholders' meeting is scheduled to be held.
In the sale negotiations, Toshiba is emphasizing the importance of conditions that the buyer will maintain the company's employment and manufacturing strongholds, and that the sale should be completed by the end of the fiscal year in March 2018.
Toshiba said it will also take into account government concerns that the sale could lead to the corporation's semiconductor technologies leaking to China.
Toshiba's U.S. nuclear power business subsidiary, Westinghouse Electric Co., collapsed in March. As a result, the corporation's debts were likely to have exceeded its assets by 620 billion yen as of the end of March 2017.
As a solution, the corporation has been forced to sell its NAND flash memory business.