Fujifilm Releases First Square Format Analog Instax Camera
Fujifilm announced a square format analog Instax camera called the Instax Square SQ6. The instant film camera has with a 1:1 aspect ratio and renders photos in a 2.4-inch by 2.4-inch square format.
The camera has an automatic exposure adjustment function that is activated when the shutter button is pressed. It detects the ambient brightness and adjusts to provide the optimum shutter speed and flash light intensity. Even in a dark room, subjects and the background can be shot clearly. When taking a selfie, simply set the camera to selfie-mode and the settings will be adjusted to the optimum focus and brightness. There is also a self-shot mirror attached to the side of the lens allowing you to check the shooting range. Tripod holes in the bottom of the main unit and a timer can be also useful for group photos.

Furthermore, the camera has three modes. The "Double Exposure Mode" allows two photos to be overlapped on a single film when the shutter button is pressed twice, the "Macro Mode" can take short-range photos up to a minimum of 30cm, and the "Landscape Mode" can be used to take long-range landscape photos. It also includes three flash color filters (orange/purple/green) that once placed over the flash will change the color of the overall photo, allowing you to achieve a more unique and textured photo.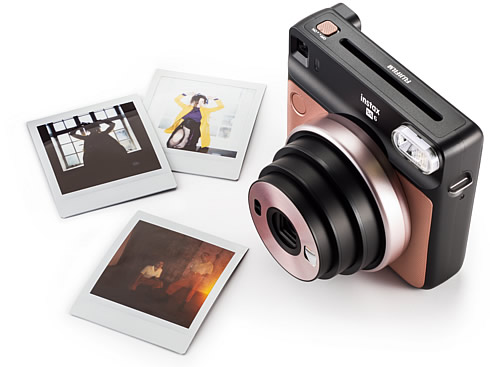 The Instax Square SQ6 comes in three colors: white, gold, and gray. You have to purchase Fujifilm Instax film separately, which costs $12.54 per pack of 10 prints on Amazon. The Square SQ6 is coming on May 25th in the US for $129.95.
instax SQUARE SQ6
Film
Fujifilm Instant Film instax SQUARE Film (available separately)
Lens
Retractable lens, 2 components, 2 elements, f = 65.75 mm, 1:12.6
Viewfinder
Inverted Galilean finder, 0.4 x, with target spot
Focusing
Motor-driven 3-range switching (0.3 m - 0.5 m/1 ft. - 1.6 ft., 0.5 m - 2 m/1.6 ft - 6.6 ft.,
2 m/6.6 ft. and beyond), Macro Mode (0.3 m - 0.5 m/1 ft. - 1.6 ft.) Normal Mode (0.5m - 2 m/1.6 ft - 6.6 ft.) Landscape Mode (2 m/6.6 ft and beyond)
Shutter Release
Programmed electronic shutter release, 1.6 sec - 1/400 sec.
Exposure Control
Automatic, Interlocking range (ISO 800) : LV 5 - LV 15.5,
Exposure compensation: ±2/3 EV
Film Feeding Out
Automatic
Film Developing Time
Approximately 90 seconds (Varies depending on the ambient temperature)
Flash
In Macro mode: Built-in, automatic electronic flash
In a mode other than Macro mode: Always flashing
Charging time: 0.2 sec - 7 sec (using a new battery), Flash charging indicator,
Effective flash lamp range: 0.3 m - 2.7 m/1 ft. - 8.9 ft.
Self-Timer
Electronically controlled, approx. 10 second delay, Can be stopped mid-run
LED Display
Shooting mode (Auto, Selfie, Macro, Landscape, Double exposure), Brightness adjustment, Flash suppressing, Self timer Mode
Power Supply
Two CR2/DL CR2 lithium batteries
Capacity: Approximately 30 instax SQUARE 10-pack film packs with new CR2/DL CR2 lithium batteries
Others
Film pack confirmation window, tripod socket (tripod sold separately)
Dimensions & Weight
118.7 mm x 128.1 mm x 58.1 mm/4.7 in. x 5.0 in. x 2.3 in. (not including protrusions)/393 g/13.9 oz. (without battery, strap, and film pack)
Accessories
Two CR2/DL CR2 lithium batteries, Shoulder strap, Three flash filters
instax SQUARE Film BLACK
| | |
| --- | --- |
| Screen size | 62mm x 62mm (L x W) |
| Film size | 86mm x 72mm (L x W) |