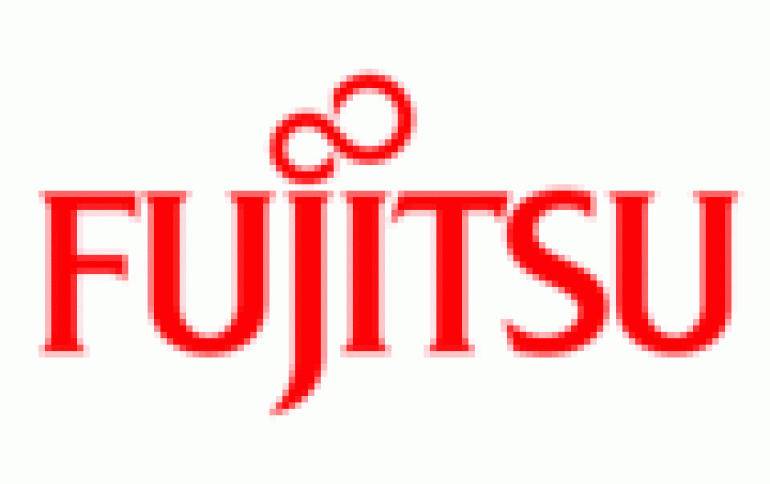 Fujitsu Develops OS-agnostic Technology for Connection Between Smartphones and Peripherals
Fujitsu Laboratories has developed a Web OS technology that automatically connects smartphones, regardless of operating system, to peripheral devices and sensors, and enables integrated use with cloud services. Conventionally, connecting peripheral devices to smartphones, tablets, and other smart devices requires a dedicated application on the smart device for each device, with different versions for different OS.
Fujitsu has developed technology that enables Web applications, which are typically written in HTML5, run on smart devices to control devices, so that cloud services and devices can be easily connected and combined.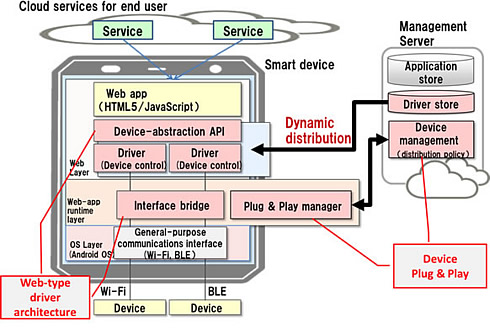 To allow for peripheral devices to be used independent of the OS, Fujitsu developed an interface bridge that in the Web-application runtime environment connects the Web-based application (the Web layer) to the operating system's general-purpose communications interface. This makes it possible to place drivers on the Web layer, eliminating the drivers' OS dependency.
Also, to enhance the independence of the application, the company developed a device-abstraction API that assimilates the differences of the various drivers. As a result, it is now possible to use different devices without changing apps, for example, accessing a monitor or printer from the same API.
To control device connection, Fujitsu has developed a plug-and-play manager that handles device discovery and dynamic driver distribution, and a device manager that controls driver distribution.
When the smart device detects a device, the drivers are acquired from the driver store in the cloud, and dynamically deployed to the Web layer. This makes it possible to quickly and dynamically link cloud services and devices.
This intelligently manages the connections between cloud services and devices by distributing only the drivers that can be used by a Web application according to the distribution policy, which lists the relationship between Web applications and required drivers.
The technology enables service providers and device makers to develop applications and drivers that are not tied to a particular operating system, and enables service users to connect these devices to their mobile smart device.
Fujitsu is expanding the list of supported devices and proceeding with operational testing, with the goal of practical implementations of this technology in fiscal 2016.