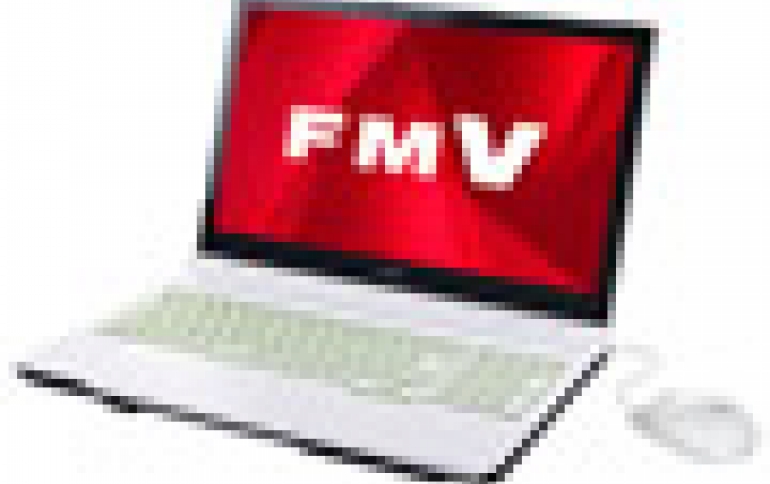 Fujitsu Introduces ARROWS Tab Android Tablet, New Windows 8 Touchscreen PCs
Fujitsu today announced the release of ARROWS Tab Wi-Fi FAR70B, a Wi-Fi-compatible tablet, and updated its FMV Series lineup of consumer-oriented personal computers. ARROWS Tab Wi-Fi FAR70B is a thin, water-resistant tablet that is Wi-Fi compatible equipped with a Full HD display and a high-capacity 10,080mAh battery. It runs on Android 4.0 OSD and also offers an upgraded version of Fujitsu's Human Centric Technology, which delivers features such as color correction and accentuated touch controls, designed to make the device easier to use for elderly users.
The tablet also features a switch-enabled smart fingerprint sensor and a family-friendly Style Switcher that allows the home screen to be customized for easy use by different members of the family, from a "Kid's Style" selection for children to an "Easy Style" selection for elderly users.
The tablet is powered by an NVIDIA Tegra 3 quad-core processor and has Dolby Digital Plus speakers.
It will be available for purchase throughout Japan in consumer electronics stores as well as Fujitsu's WEB MART shopping site beginning February 15th.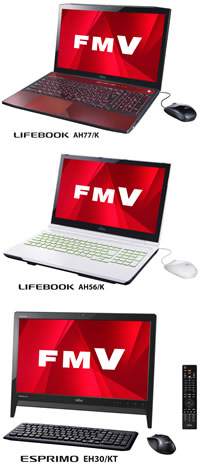 Fujitsu also today its updated its FMV Series lineup of personal computers. The new lineup features a total of 11 models in five product families, each equipped with Office Home and Business 2013 from Microsoft.
From the LIFEBOOK AH family of 15.6-inch notebook PCs, Fujitsu is introducing two new models, the AH77/K and the AH56/K, that feature support for Windows 8 touch operations.
With the touchscreen's special surface processing called Sara-Sara Coating Display, fingerprints and smudging don't stand out. In addition, the new models also include a large touchpad that can be operated with a finger with the same convenience as a touchscreen.
The AH77/K includes a high-capacity battery offering about 6.3 hours of runtime, HDD protection that safeguards important data from impact damage and Pioneer speakers.
For the desktop PC ESPRIMO FH lineup, Fujitsu is introducing two new 21.5-inch models, the FH56/KD and the FH54/KD, which feature support for wireless touchpads enabling the computer to be remotely operated with the same finger operations as its touchscreen, even from a distance.
The FH54/KD also features Quick TV, which allows users to view television programs without having to boot the operating system, as well as a double recording function that enables two television shows to be simultaneously recorded.
Models in the EH family of entry-level 20-inch desktops have also been updated with a more compact design. Fujitsu has managed to lighten the PCs from almost 5.8kg to only 5.2kg, while achieving a depth reduction from about 18cm to 17.2cm. Fujitsu's lower-cost model lineup still come equipped with TV viewing and recording functionality and also feature an LCD screen that can be freely adjusted between 10-30?.
All of the new models come equipped with the latest version of Office Home and Business 2013. In addition to supporting touch operations, Office Home and Business 2013 is loaded with new features including Live Layout for Word 2013, which allows users to rearrange photos and charts by simply dragging them to a new location, and Recommended Charts for Excel 2013, which displays suggested chart types with a single click.
In addition, with the My Cloud Start feature from Fujitsu's My Cloud consumer cloud service, user content such as photos, videos, and music stored on both the PC's internal hard drive and in online storage can be displayed at a glance.
The new models will be available in Japan from February 7, 2013.