Fujitsu Releases New Enterprise Tablet and PC Models
Fujitsu releases in the Japanese market three new enterprise tablet models, 14 models of notebooks and three new models of desktop PCs.
The new models are being rolled out in stages from the end of January.
Main Features
Three lighter and thinner models in two ARROWS Tab series
In the ARROWS Tab Q series of large screen tablets with 13.3" LCDs, Fujitsu is launching the Q738/SE model for educational institutions and the Q738/SB model for enterprises, which maintain the high performance of the previous models while featuring a chassis design that is about 20% lighter and thinner.
The Q738/SB supports technologies such as the latest 8th generation Intel Core i5 processor and the Windows 10 Fall Creators Update.
The lightweight tablet ARROWS Tab V727/S features a high luminance 12.3" LCD optimal for giving presentations. This model is the only tablet made by the Fujitsu Group to feature a 3:2 aspect ratio LCD, enabling it to display A4-sized materials in the correct proportions. In addition, the new models are easier to maintain as customers can replace their batteries. Accessories are also available to serve as tablet stands, including both a portfolio cover that can hold the tablet at an easy to use angle, and a cover keyboard that can be attached and removed with magnets.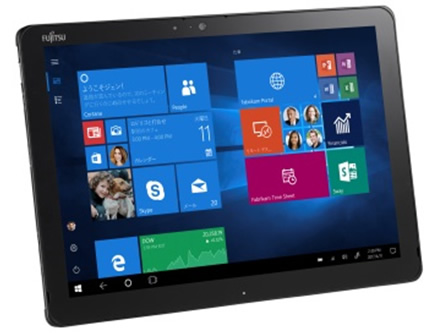 These three models all feature a full suite of ports, including three USB ports including one Type-C, and a microHDMI port, as well as offering a number of security options, including built-in smart card or fingerprint touch sensor options. The included pen can be charged almost instantly, gaining about 90 minutes of use from a 15 second charge in the pen slot in the main body of the tablet.
LIFEBOOK notebook lineup
The global models of LIFEBOOK E558/S and E548/S, featuring 15.6" and 14.0" LCDs respectively, have been reduced in weight by approximately 20% while maintaining the same performance and expandability.
These models feature a wide variety of ports, including an HDMI port, an analog RGB port, three USB ports including one Type-C, as well as a wired Ethernet port, and they can be configured to equip a number of security devices, including a touch fingerprint sensor and a built-in smart card reader.
Enhanced lineup for both the ESPRIMO desktop PCs and the CELSIUS workstations
The ESPRIMO lineup has been enhanced with the ESPRIMO D957/S high-end model, the ESPRIMO D587/S multifunction model, and the ESPRIMO D556/S entry model, all featuring the Windows 10 Fall Creators Update.
The CELSIUS lineup has been enhanced with the 17.3" widescreen CELSIUS H970 mobile model, which can be custom built to include the NVIDIA Quadro P5000 high performance graphics card.