LG Display Highlights Advancements in Display Technology at CES 2013
LG Display will showcase the latest innovations in display technology resolution and design at a private booth during the week of CES 2013. On exhibit will be the first lineup of Ultra High Definition TV displays, as well as world's highest resolution 4K2K monitor. LG Display at CES 2013 will focus on the themes of high picture quality resolution and design minimalism. Among other products,the companywill showcase the lineup of Ultra High Definition (UHD) panels, a technology widely viewed as the future of TV, in 55-, 65- and 84-inch sizes.
At 3840x2160, UHD utilizes an incredible 8 million pixels or four times the resolution of existing Full HD. With 55- and 65-inch sizes added to 84-inch as part of its UHD lineup, LG Display is poised to dominate the emerging UHD premium display market. Also integrated across its range of UHD TV displays is the company's FPR (Film Patterned Retarder) 3D technology for a truly peerless offering.
LG Display's advancements are not limited to TV, but extend across the IT (Information Technology) sector. In addition to UHD TV displays, the company will unveil a 30-inch 4K2K monitor, which at 4096x2160, is the highest resolution computer monitor to date. The monitor is anticipated to be utilized by professionals in fields like medicine, design, and more.
In line with its market leading AH-IPS (Advanced High Performance In-Plane Switching) technology for smartphones, tablets, and monitors, LG Display will exhibit a Full HD 5.5-inch smartphone display with 403 ppi (Pixel Per Inch), as well as 7-inch tablet display with resolution of 1920x1200 and 324 ppi. A 12.9-inch laptop panel featuring 2560x1700 (QSXGA) resolution, previously realized in only 20-inch and over premium monitors, will also be shown.
CES visitors will experience products from LG Display's Narrow Bezel lineup including the next generation in the popular "Neo-Blade Series," a 23.8-inch monitor panel with an ultra narrow bezel, as well as a 13.3-inch laptop panel with a narrower than 2 mm bezel. Also featured will be a 4.7-inch mobile display with approximately 1mm bezel, providing a solution for users to comfortably grip a large-sized phone in one hand.
Last year's show 55-inch WRGB OLED will also be back at CES 2013. LG Display has further enhanced its OLED TV not only in technology, but also in design. Weighing just 3.5kg, 1/5th that of a typical LCD display, and 4mm thin, LG Display is truly laying the prologue for the new OLED TV era.
Finally, LG Display will highlight its advancements in the public display field with products including the world's first 84-inch UHD Interactive Whiteboard for classrooms, a futuristic 47-inch transparent display, a 47-inch high brightness display perfect for outdoor signage use, and video wall composed of nine 55-inch FPR 3D panels.
Seperately, LG Electronics today announced the arrival of new games for its CINEMA 3D SmartTVs. The titles include 'Where?s My Water,' 'The Sims FreePlay,' 'Air Penguin,' 'Mini Motor Racing' and many more. Each game can be played using LG?s new motion-sensing Magic Remote.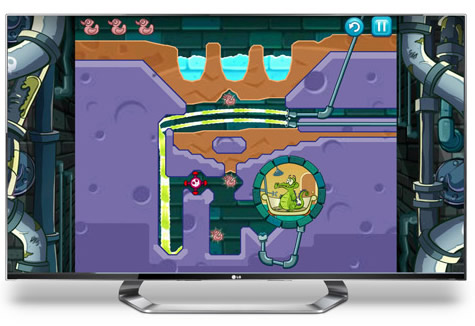 All the games will be demonstrated on LG CINEMA 3D Smart TVs at CES 2013 in Las Vegas (USA). Each title will be downloadable from LG SmartWorld beginning the first quarter of next year.