Samsung Unveils ChatON 2.0, Galaxy S4 Coming in April
Samsung today unveiled ChatON 2.0, the next version of its global communication service that connects all phone users into a single community. Seperately new reports hint of an April release of the company's flagship Galaxy S4 smartphone. Now available in over 200 countries in more than 60 languages, ChatON provides instant messaging and group chatting in multiple formats - images, video, voice, contacts. The upgraded service works on multiple connected devices - phones, tablets, connected cameras, and any web browser.
ChatON 2.0's multiscreen feature enables a user to chat with up to five connected devices using a single account, ensuring no message is ever missed. It is even possible to use ChatON from a PC web browser by logging onto chaton.com with the same Samsung Account ID. Users can now also invite friends to ChatON conversations from a wider variety of platforms, including Facebook, Twitter and Weibo.
ChatON 2.0 makes sharing content simple for both one-to-one and group conversations, where users can leave comments or other content in the Trunk - a virtual place to store, and comment on, photos and videos with friends before sharing them more widely on Facebook or other social networks.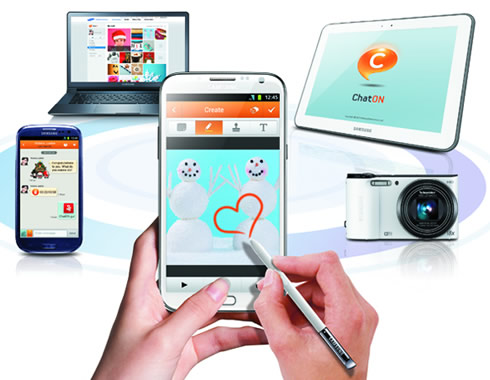 "ChatON Special Buddy" also provides offers, updates and news feeds from third-party vendors in real-time, and allows users to vote in polls or leave comments.
Like a micro social network, ChatON 2.0 allows users to create their own personal profiles and post status updates for friends to see and comment on. The comments can be posted to profile pages whether the user is on or offline, and ChatON's Interaction Rank gives users useful information and statistics about their conversations with friends.
ChatON is preloaded on all Samsung mobile devices and available for download at Samsung Apps.
Regarding the upcoming Galaxy S4 smartphone, Korean Electronic Times Internet today reported that the new device will debut in April and that it will be the the first Galaxy S series phone to come with the S Pen.
According to the report, the phone comes with a five-inch AM OLED display panel and the S Pen. The input device using magnetic induction technology enables thick and thin lines to be drawn accurately on the screen.
At the same time, the phone is equipped with an infrared LED motion sensor. It processes signals through simple steps and can detect a motion more than twice faster than existing camera sensors. Samsung is planning to raise the screen resolution to up to 441 pixels per inch, which is much higher than 326ppi of the Retina LCD panel of Apple's iPhone 5. A digitizer is placed beneath the display panel to detect the S Pen.
A two-megapixel full-HD camera and 13-megapixel auto-focusing camera module are installed on the front and back sides, respectively. The thickness of the product is estimated to be 9.2mm, slightly thicker than the previous model?s due to the camera module, the report claims.
According to other reports, the company's next flagship device is also expected to incorporate flexible displays made out of plastic, which could make them more durable.
Samsung is looking to eclipse its 2012 sales record by shipping more than a half billion phones in 2013. Samsung is planning to ship 510 million phones next year, according to The Korea Times.