LG Display Showcases 18-inch Rollable Display At SID
LG Display is showcasing at the 2015 Society for Information Display (SID) conference in San Jose, Calif. this week an 18-inch flexible organic light-emitting diode (OLED) display. The 18-inch, paper-thin OLED can be rolled up like paper to a radius of 3cm without being damaged or even affecting its functionality. Plans for a commercial release of this roll-up display are unknown.
LG Display did not immediately respond to a request for comment on its plans for the roll-up display.
Of course, LG's large OLED TVs that appeared at last January's CES show in Las vegas could not be missing from SID's floor. They are available in models with 55, 65, 77-inhes screens.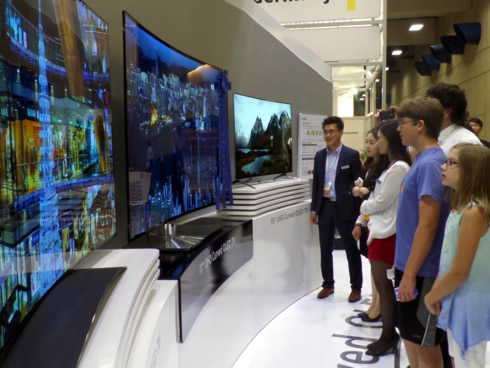 The company also presents its Advanced In-cell Touch Technology (AIT) for large LCDs. The technology allows the application of ultra-thin touch sensor on an LCD panel. The company says AIT can be applied to LCDs with size ranging from 5-15 inches, meaning it can be appliced in thin-bezel screens for mobiles, tablets, laptops e.t.c. Touch operation with gloves (5mm) is supported. AIT also offer great outdorr visibility - higher transmittance, 5.5% lower reflectance and a 1.8% higher Ambient Contrast Ratio (ACR).
LG Display has already introduced the AH-IPS technology in existing smartphones. The next step is the 'AH-IPS Plus', currently under development. The technology offers improved colour accuracy, increased resolution and PPI, and greater light transmission (20-30% higher) for lower power consumption.
Since January, LG Display has participated in many events and conferences in order to promote its OLED technology. In a special press conference in Korea in May, the company unveiled a a proof-of-concept television known as "wallpaper." The 55-inch OLED weighs just 1.9 kilograms and is less than a millimeter thick. It attaches to a wall with a magnet.