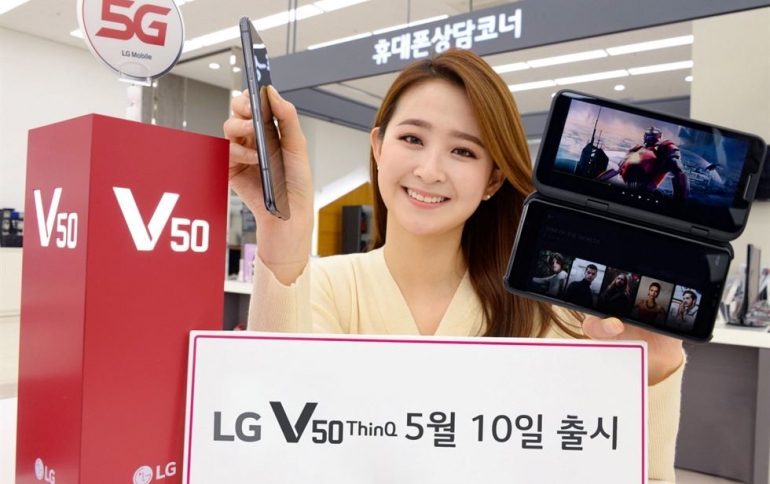 LG launches the 5G-enabled V50 ThinQ Smartphone With High Expectations
LG Electronics will release its dual-screen 5G smartphone "V50 ThinQ" on May 10.
The South Korean company hopes that its second 2019 premium smartphone will sell better than the firts one, the "G8 ThinQ," which was released in March.
LG Electronics and the three mobile operators in South Korea have started take pre-orders for the new smartphone.
The store price of the latest model is 1,199,000 won (US$1,025), about 200,000 won cheaper than Samsung Electronics' Galaxy S10 5G. LG will also provide a free replacement service once a year for customers who purchase the product by May 13, if the display is damaged within a year of purchase. In addition, the company will offer a free "dual screen" worth 219,000 won to customers who purchase the V50 ThinQ by the end of June. These customers can also benefit from the "LG Customer Safety Compensation Program" when they return the smartphones they have been using.
The firm has boosted the display and audio performance of the V50ThinQ 5G, noting that a 6.4-inch organic light-emitting diode (OLED) display offers users a heightened sense of immersion whether they are viewing a video or enjoying a game. Audio also has been upgraded to produce a superb stereo performance that can be enjoyed with or without headphones.
The Dual Screen opens up to give V50ThinQ 5G users a second 6.2-inch OLED display for double the viewing, gaming and multitasking experience, the firm said.
LG's mobile devision has been posted more than 200 billion won of operating loss this year alone.
Samsung's Galaxy S10 5G hit shelves April 5.