LG Nano IPS Monitors Boast Picture Quality and Thunderbolt 3 Connectivity
At CES 2018 in Las Vegas, LG will introduce upgraded models of its monitor lineup with Nano IPS technology, support for HDR600 with even higher dynamic range of peak brightness and new connectivity options with full Thunderbolt 3 compatibility.
LG's new 32-inch UHD 4K monitor (model 32UK950) is the first to offer LG's advanced Nano IPS technology. Nano IPS technology involves the application of nanometer-sized particles to the screens LED to absorb excess light wavelengths. This enhances the intensity and purity of on-screen colors for a more accurate viewing experience. This LG monitor can display 98 percent of the DCI-P3 color spectrum, comparable to monitors used to master Hollywood blockbusters. Users will experience high dynamic range of peak brightness of 600 candela.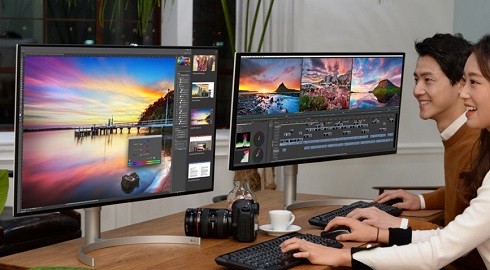 LG model 32UK950 features the Thunderbolt 3 docking display to support 4K daisy chaining, allowing a set-up of dual 4K monitors. This LG monitor can connect to Thunderbolt 3 notebooks like Macbook Pro via a single active Thunderbolt 3 cable - no charging adapter or unsightly USB cables required. This monitor's single Thunderbolt 3 cable transmits 4K content and sound while providing enough charge to power a 60W notebook.
LG's 34-inch UltraWide monitor (model 34WK95U) delivers a broad range of accurate colors and viewing angles at a 5K resolution (5120 x 2160 pixels). LG's very first 21:9 5K UltraWide monitor supports Nano IPS technology and HDR600. In addition, model 34WK95U features a Thunderbolt 3 port.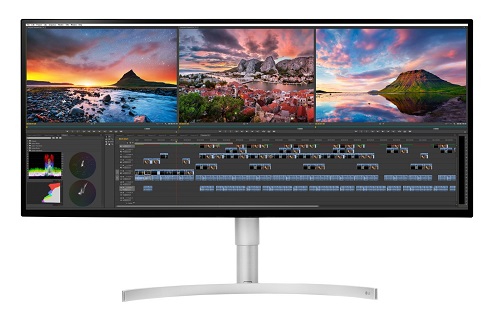 Another attention grabber from LG will be LG's latest QHD gaming monitor (model 34GK950G), which offers high picture quality with Nano IPS technology and high-speed G-Sync technology.