LG Unveils Expanded OLED TV Lineup With New Content Options At CES 2015
Following the debut of the first 4K OLED TVs in 2014, LG Electronics is unveiling its latest OLED TV lineup, partnerships that will bring 4K Ultra HD and Full HD content to LG Smart TVs and the new G Flex 2 smartphone. LG is offering seven different new 4K OLED TVs - flexible, curved and flat models spanning 55 (54.6 inches diagonally), 65 (64.5 inches diagonally) and 77 (76.7 inches diagonally) inches in display size.
All of LG's 2015 4K OLED TVs utilize the company's proprietary WRGB technology. This pixel structure adds a white sub pixel, which allows for life-like colors. These TVs incorporate features that ensure images are rendered with perfect blacks and an infinite contrast ratio. LG's Optimized True Color technology regulates color stability regardless of variations in brightness. With a maximum response time of 0.001ms, LG's OLED TVs are more than 1,000 times faster than conventional LCD flat panel TVs.
LG's "Art Slim" design philosophy takes LG's TV design into a direction with a focus on creating a slim TV while keeping the overall aesthetic minimal. The transparent stand makes the TV appear as though it is floating, reducing visual clutter around the screen. And while a curved TV may look exciting, LG also has a flat TV design for those looking for simplicity.
The 2015 LG OLED TVs also feature advanced sound with technology developed in partnership with Harman/Kardon.
All of LG's 2015 4K OLED TVs feature webOS 2.0, the latest version of LG's smart TV platform. LG's webOS 2.0 delivers an simple user interface and many features. The platform offers reduced boot time and also allows users to optimize menus on the Launcher Bar making it easier than ever to add and delete favorite items.
LG's 4K OLED TV lineup includes the 55-inch 55EF9500 and 65-inch 65EF9500, as well as a step-up 65-inch model, the 65EF9800. The company's other OLED size, 77 inches, will not be available in a flat version. Pricing and availability were not announced.
The main new curved models are the EG9800 series, which comes in a 55-inch and 65-inch size.
LG also said it would launch a 77-inch version of its previously concept-only flexible OLED TV. This model, the 77EG9900, allows for the viewer to adjust the display from curved to flat at the touch of button.
LG also talked about its ColorPrime technology which it hopes will breathe a last lease of life into its LCD TV range as OLED slowly takes over. The UF9500 is the flagship series that sports the ColorPrime tech and is available in 55-, 65- and 79-inch sizes.
According to LG, ColorPrime "utilizes different phosphor-based LEDs to display greater color depth and more lifelike images and a 25 percent increase in color gamut".
LG also announced a lineup of new content partners for the company's new webOS 2.0 Smart TV platform. These new alliances – with content and technology providers GoPro, DIRECTV, Netflix, Amazon, YouTube, HSN, SHOWTIME, Drama Fever and iHeartRadio – will offer online access to more streaming content and 4K viewing options than ever before to LG Smart TV owners.
One of the most noteworthy new content partnerships is the TV collaboration between LG Electronics USA and GoPro, which will bring some of today's most engaging content to LG Smart TVs. With the exclusive new GoPro Channel app, available exclusively to LG webOS Smart TVs, owners can stream GoPro videos on-demand today, including content shot on the HERO4 Black GoPro camera ever. Access to 4K content is anticipated in future updates to the Channel.
The GoPro app will join other new applications and features providing a selection of Ultra HD and Full HD content on LG 4K Ultra HD, LCD and OLED TVs featuring the webOS platform.
LG is also parnering with DIRECTV to offer access to new releases as well as favorite classic films through DIRECTV 4K VOD service. The feature will be available later this year through an update.
New LG Smart TVs will allow subscribers with DIRECTV's Genie HD DVR to access DIRECTV 4K and Full DIRECTV services. Subscribers can also access content on additional enabled devices throughout the home without a wired connection and without additional set-top boxes.
LG has been also working with global content providers Netflix, Amazon and YouTube, enabling LG customers to enjoy a wide variety of 4K content including TV series, movies, music videos and more.
In partnership with the entertainment and lifestyle retailer HSN, LG plans to launch a new and simpler way to shop while watching live broadcasting through HSN programming on LG Smart TV with webOS 1.0 and 2.0. Consumers will have an opportunity to make instant selections using an HSN app available on the LG Launcher Bar while viewing HSN programming.
In addition, LG's "Live Plus" technology will be available on LG Smart TVs with webOS 2.0. In conjunction with SHOWTIME SHO Sync, Live Plus delivers on-screen trivia, polls and social features for original SHOWTIME series.
DramaFever, an international service providing the latest in TV and movies will be also made available to LG Smart TVs. DramaFever offers LG customers an opportunity to stream entertainment from an international library of shows and movies.
The free, all-in-one digital audio service, iHeartRadio, will deliver limitless music options to LG Smart TVs with webOS 1.0 and 2.0 beginning in January 2015. Via an one-click menu, listeners can stream thousands of live radio stations from their own living rooms.
LG also debuted at CES the G Flex 2, the company's next attempt at making a great curved smartphone.
The device has a P-OLED 5.5-inch screen - smaller that the 6-inch one found on the original G Flex model - but its resolution has been cranked up to 1080p. LG claims that the new screen is 20 percent more durable.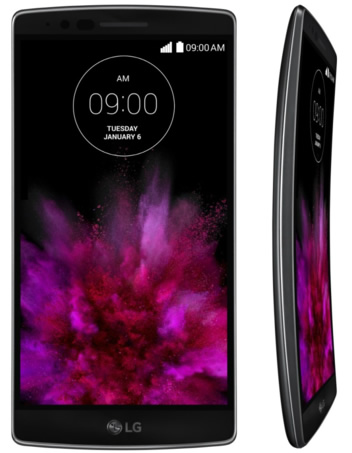 The rear side of the device has been also protected by the "Self Healing" feature, which covers any scratches within 10 seconds.
Under the hood, the G Flex 2 is one of the first devices to come with one of Qualcomm's 2.0GHz octa-core Snapdragon 810 chipsets. It also packs 2GB of RAM and supports carrier-aggregated LTE Category 6 to boot. You'll be able to choose from either 16 or 32GB of internal storage, and the included high-speed charger will get you from 0 to 50 percent in about 40 minutes. LG has also arme the G Flex 2 with the G3's 13-megapixel rear camera, complete with super-fast laser autofocus.
The smartphone runs on a customized version of the Android 5.0 Lollipop.
The G Flex2 goes beyond its predecessor's 700mm radius curved profile. The new smartphone incorporates curves ranging from a radius of 400mm to 700mm across the front, back, sides and top-to-bottom edges.
The display has a 700mm radius curvature for greater viewing from any angle, while the steeper 650mm radius curvature of the back is more comfortable to grip and fits easier in the pocket.
The G Flex2 also comes loaded with LG's software features optimized for its curved form factor:
Gesture Shot makes it easy to capture the perfect selfie with a simple hand gesture recognizable from up to 1.5 meters away.
Gesture View makes it easy to check your last shot immediately after taking a photo or selfie.
GlanceView displays key information such as time, recent messages or missed calls with a downward swipe of the curved screen even while the display is off.
Fast Charge allows the embedded 3,000mAh battery in the G Flex2 — the only curved mobile battery in the world to be charged up to 50 percent in under 40 minutes.
The LG G Flex2 will be available starting at the end of the month in Korea to be followed by additional global markets. The device will initially be available in two colors: Platinum Silver and Flamenco Red.
Key Specifications G Flex 2:
Chipset: Qualcomm Snapdragon 810 processor with 2.0GHz 64-bit Octa-Core CPU
Display: 5.5-inch Full HD Curved P-OLED (1080 x 1920 pixels / 403 ppi)
Memory: 16/32MB eMMC ROM / 2GB DDR4 RAM / microSD slot (up to 2TB)  
Camera: Rear 13.0MP with OIS+ with Laser Auto Focus / Front 2.1MP
Battery: 3,000mAh (embedded)
Operating System: Android 5.0 Lollipop
Size: 149.1 x 75.3 x 7.1-9.4mm
Weight: 152g
Network: 4G / LTE / HSPA+ 21/42 Mbps
Connectivity: Wi-Fi 802.11 a/b/g/n/ac, Bluetooth Smart Ready (Apt-X) 4.1, NFC, SlimPort, A-GPS / Glonass, USB 2.0
Color: Platinum Silver, Flamenco Red
Other: Gesture Shot, Gesture View, Glance View etc.