LIGHTSYNC Technology Lights Up New Logitech G Speaker and Keyboard
Logitech is lighting up its family of gaming gear with the introduction of the Logitech G560 PC Gaming Speaker and the Logitech G513 Mechanical Gaming Keyboard.
Designed for gamers, these new products offer game-driven RGB lighting effects. LIGHTSYNC will blast light to match in-game explosions, approaching enemies, damage taken, healing is done, new worlds visited and more.
The Logitech G560 is Logitech G's first dedicated gaming speaker system. The LIGHTSYNC technology synchronizes RGB lighting and powerful audio in real time to match on-screen gameplay action. But also, you can customize light and animation effects across approximately 16.8 million colors, with four lighting zones.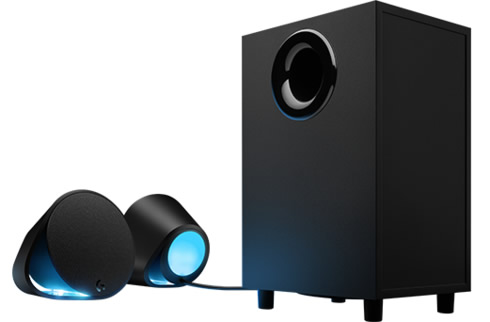 An evolution of the Logitech G413 Mechanical Gaming Keyboard, the Logitech G513 mechanical gaming keyboard features RGB lighting and LIGHTSYNC support. With the Logitech G513, you can choose Romer-G Tactile or Romer-G Linear switches for competition-grade performance, faster and quieter performance, brighter and shaper lighting. The minimalist Logitech G513 is designed with an integrated USB extension passthrough port and an optional palm rest.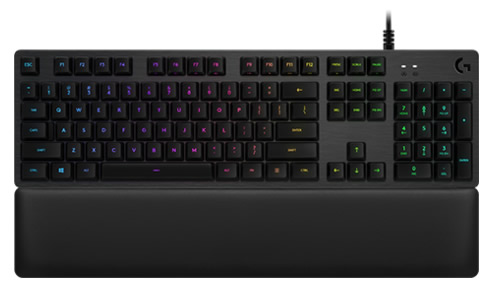 The Logitech G560 PC Gaming Speaker ($199) and G513 Mechanical Gaming Keyboard ($149) are now available for pre-order at LogitechG.com.
Logitech G513 Specifications
Warranty: 1-Year Limited Hardware Warranty

Subwoofer:

Height: 1.33 ft (404 mm)
Width: 10 in (255 mm)
Depth: 8.1 in (207 mm)
Weight: 12.1 lbs (5.5 Kg)

Satellites:

Height: 5.8 in (148 mm)
Width: 6.5 in (166 mm)
Depth: 4.6 in (118 mm)
Weight (per pair): 3.92 lbs (1.79 kg)

Total weight: 16.02 lbs (7.27 Kg)
Total watts (peak): 240W
Total watts (RMS): 120W
Bluetooth version 4.1
25-meter line of sight range
USB input x 1
Headphone jack x 1
Frequency response: 40Hz - 18KHz
Max SPL: 97dB@426B
Sensitivity: 84dB@1m/1w
Input impedance: >10K ohm
Connection Type: USB, 3.5mm, Bluetooth
Indicator Lights (LED): back and front lighting zones
Wireless Range: 25 meter line of sight


Driver Size:

satellite: 2.5 in (63.5 mm)
subwoofer: 6.5 in (165 mm)


Input Impedance: >10K ohms
Sound Pressure Level (SPL Max): 97dB@426B
Audio Controls: on right satellite speaker
Audio Output: 3.5 mm headphone jack on right satellite

Speaker Type: 2.1
Power Rating (RMS): 120 watts


Cable Length (Power/Charging):

Power: 2200mm
Right to subwoofer = 2200mm
Left to subwoofer = 2200mm
G513 Specifications
Warranty: 2-Year Limited Hardware Warranty


Keyboard dimensions:

Height: 132 mm
Width: 455 mm
Depth: 34 mm
Weight: (w/o cable): 1105g
Cable: 1.8 m

Plamrest dimensions:

Height: 88 mm
Width: 445 mm
Depth: 21.5 mm

Romer-G Key Switches:

Durability: 70 million keypresses
Actuation distance: 1.5 mm
Actuation force: 45 g
Total travel distance: 3.2 mm

Keyboard Specifications:

Connection Type: USB 2.0
USB Protocol: USB 2.0
Indicator LIghts (LED): 2
USB Ports (Built-in): Yes, 2.0
Backlighting: Yes, RGB per key lighting

Special Keys:

Lighting Controls: FN+F5/F6/F7
Game Mode: FN+F8
Media Controls: FN+F9/F10/F11/F12
Volume Controls: FN+ PRTSC/SCRLK/PAUSE
Programmable FN keys via Logitech Gaming Software