Lumia 635 Launches in U.S.
Starting this month, the Lumia 635 - loaded with Windows Phone 8.1, Cortana, SensorCore technology and more - will be available in the United States for the first time on T-Mobile's 4G LTE network. The successor to the Lumia 521, the Lumia 635 will be available for purchase for $0 down, $7 per month for 24 months. It will be sold starting July 5 via the Home Shopping Network and online at T-Mobile.com starting July 9. On July 16, the smartphone in white can be found in T-Mobile retail stores, and on July 18, in select MetroPCS stores.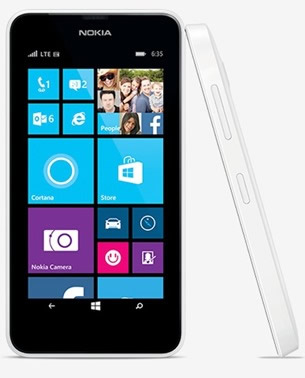 The Lumia 635 has the latest features with Windows Phone 8.1, including Cortana digital personal assistant. It features a 4.5" LCD screen and a quad-core Snapdragon processor. And its SensorCore technology, which monitors your steps, movements, routes and places, may make the Lumia 635 your all-in-one fitness tracker. SensorCore is embedded in Bing Health & Fitness, and will be available in more apps soon.
Specs
- Display: 4.5" ClearBlack, IPS LCD, 480x854 resolution, 221 ppi
- Storage: 8 GB storage, 512 MB RAM, Expandable memory
- Camera: 5.0 MP, 720p HD video, Autofocus
- Processor: 1.2 GHz MSM8x26 Quad core
- Software: Windows Phone 8.1
- Battery life: 13 hours talk, 600 hours standby