Microsoft Unveils Windows 10 for Qualcomm Chips, "Project Evo" PCs For Mixed Reality And Gaming
Microsoft is creating a version of the Windows 10 operating system that will run on laptops powered by Qualcomm chips, and announced a collaboration with Intel, code-named "Project Evo", which will bring the most cutting edge technologies inside PCs with Intel inside.
The announcements were made on Thursday, at the Windows Hardware Engineering Community event (WinHEC) in Shenzhen, China.
Terry Myerson, executive vice president, Windows and Devices Group, Microsoft, was joined on stage in Shenzhen by Navin Shenoy, senior vice president and general manager for the Client Computing Group, Intel, and Cristiano Amon, executive vice president, Qualcomm Technologies, and president of Qualcomm CDMA Technologies.
"I feel energized to be among this community of hardware engineering creators at WinHEC, who are building the next generation of modern, secure PCs that support innovative mixed-reality, gaming and mobile experiences," Myerson said. "With the Windows 10 Creators Update and our partnerships with Qualcomm and Intel, we can build technology that serves all of us by ensuring there are devices."
Chips from Qualcomm are designed to work on limited battery life and have integrated cellular connections. Bringing Windows 10 to notebooks and tablets that run on these chips will result in sleeker devices that can go days without needing to be plugged in and are always connected, the companies said. The first devices will be available as soon as next year, Microsoft said, without specifying which manufacturers have committed to make them.
If successful, the effort will pose the first major challenge to Intel technology in personal computers. The tie-up isn't the first time the world's largest software maker has tried to bring Windows to computers running on chip technology other than Intel?s -- the previous attempt (Surface RT) garnered few sales and resulted in huge losses on unsold inventory.
Microsoft will give Windows 10 for Qualcomm chips the ability to run programs written for the traditional version of the platform, using an emulator software. That means the computers and tablets will be able to run regular Microsoft Office programs, as well as applications.
This time Microsoft will offer an enterprise edition so corporations can manage the tablets and laptops and weave them into information technology infrastructure the same way they do with Intel-based machines. The new focus on business customers and the addition of more compatible applications mean this time Microsoft is more likely to succeed, said Matt Barlow, a Windows vice president.
We should already account that Microsoft is already working with Qualcomm in the HP Elite X3 which has Windows 10 Mobile and a Snapdragon 820 inside.
Projecy Evo - A new wave of modern PCs
Of course, Microsoft is still leaning heavily on Intel for many parts of its Windows plans. The two companies are working on computers that take advantage of artificial intelligence and Microsoft's Cortana voice-controlled search agent. As part of the collaboration, called Project Evo, the two companies will work on programs like adding far-field speech communication to devices so users can ask Cortana questions or request it play music from across the room -- features popularized by Amazon.com's hit Echo voice-activated home devices.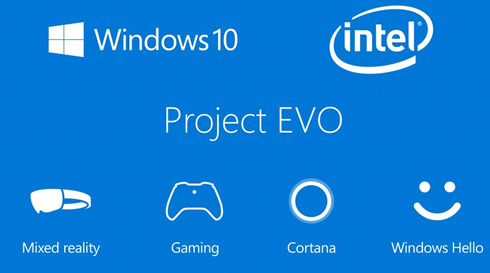 Through this collaboration, devices of the future will leverage Microsoft and Intel innovations including:
Far-field speech communications so you can ask Cortana a question or play a song from across the room.
The latest security capabilities to protect devices from malware and hacking threats, advances in biometric authentication with Windows Hello, sophisticated insights from Microsoft?s Intelligent Security Graph, additional security intelligence, and analytics from Intel.
Mixed reality experiences for everyone through affordable PCs and head mounted displays (HMDs) that blend the physical and virtual realities.
Gaming innovations like eSports, game broadcasting and support for 4K, High Dynamic Range (HDR), Wide Color Gamut (WCG), spatial audio, and Xbox controllers with native Bluetooth.
Windows is the a platform unifying the mixed reality ecosystem, providing inside-out tracking for HMDs, a single platform and standardized inputs for developers, and a consistent interface with a single store.
Microsoft submitted Microsoft HoloLens for government approval in China, and look forward to making it available to developers and commercial customers in China in the first half of 2017.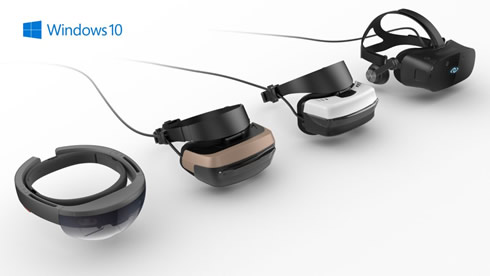 The company also shared the specifications that we co-developed with Intel for PCs that will power the first headsets capable of mixed reality. HMDs from Acer, ASUS, Dell, HP, and Lenovo will be available next year.
Here's the full minimum specs:
CPU: Intel Mobile Core i5 (e.g. 7200U) Dual-Core with Hyperthreading equivalent
GPU: Integrated Intel HD Graphics 620 (GT2) equivalent or greater DX12 API Capable GPU
RAM: 8GB+ Dual Channel required for integrated Graphics
HDMI: HDMI 1.4 with 2880x1440 @ 60 Hz or HDMI 2.0 or DP 1.3+ with 2880x1440 @ 90 Hz
HDD:100GB+ SSD (Preferred) / HDD
USB: USB 3.0 Type-A or USB 3.1 Type-C Port with DisplayPort Alternate Mode
Bluetooth: Bluetooth 4.0 for accessories
Microsoft is also planning to allow developers to start testing Windows 10 VR headsets in February. Developer kits will be available the Game Developers Conference in San Francisco, ahead of retail headsets from Acer, Asus, Dell, HP, and Lenovo.
Microsoft still isn't fully detailing exactly what the experience of Windows 10 VR will be like, and how it will differ to HoloLens, but the company will support 360-degree video in the Movie & TV app, and WebVR support through Microsoft Edge. We?ll likely start to see more on the Windows 10 VR experience early next year.
In addition, 3Glasses, the leading China-based hardware developer for HMDs, will bring the Windows 10 experience to their S1 device in the first half of 2017, reaching more than 5 million monthly active customers in China.
Last but not least, Microsoft said that in future Windows 10 updates, it will help customers buy data directly from the Windows Store and put them in control of how they use Wi-Fi and cellular networks, consume data, and manage costs. Microsoft's partners can take advantage of eSIM technology to build devices without an exposed SIM slot, making it easier for people to activate a data plan right on their device.