NEDO and Toshiba Release Software Interface For Controlling Different Robots Under a Common System
NEDO and Toshiba Corp. have established the Autonomous Mobile Robot Interface (AMR-IF), a software solution that connects autonomous mobile robots in an operations and control system.
Autonomous mobile robots are increasingly deployed in manufacturing and logistics, as well as in public facilities, where the services they perform include delivery, security and cleaning. However, getting different kinds of robots from different manufacturers to work together remains a problem. We are still at the point where individual manufacturers develop their own top-level operations control systems for their robots, with a custom interface to connect them. Robots from different manufacturers cannot be connected with the same operations control system, and introducing a new mobile robot to work alongside robots from another manufacturer requires redesign of the system.
To solve this problem, the New Energy and Industrial Technology Development Organization (NEDO) and Toshiba Corporation have developed AMR-IF as an interface that defines interconnection procedures for mobile robots and their operation control systems—a solution that provides robots from different manufactures a shared system.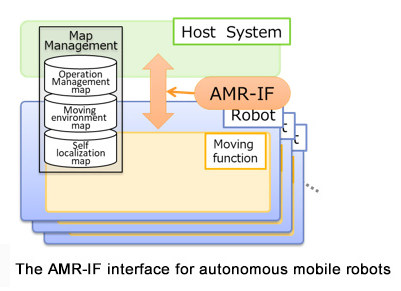 The AMR-IF specification allows multiple mobile robots of various types, from different manufacturers, to be operated in a common system, and is expected to promote cost reductions and the use of robots in new areas.
AMR-IF defines protocols necessary for the operational control of mobile robots, including map information, movement path instructions, and robot localization. Applying the AMR-IF specifications realizes efficient formulation of routing plans for multiple mobile robots, and constructs an operations control system that avoids the deadlock that occurred due to simultaneous selection of the same path by multiple robots.
Sample software for an operations terminal implementing AMR-IF was released today as open source software, allowing companies to test the specification.
Github: https://github.com/AMR-IF/AMR-IF-UI (English)
The development is part of NEDO's Technology Development Project for Robot Commercialization Applications.
Going forward, Toshiba and NEDO will promote the AMR-IF as an international standard interface for mobile robots.