New Features in Google Maps Let You Control of Your Commute
Google is rolling out new features on Google Maps to help you take control of your daily commute, enabling you to plan ahead, prepare for the inevitable disruptions, and possibly avoid them.
Google Maps now features a commute tab that provides one-tap access to live traffic and transit information tailored to your commute. The app will tell you if your commute is going to be a normal one or if you'll need to budget extra time due to things like an accident or heavy traffic. In the case of a delay, the app will provide information about alternative routes. On Android, you'll also receive notifications about delays and disruptions on your route as they happen, so you can know about an incident before you get caught up in the delay.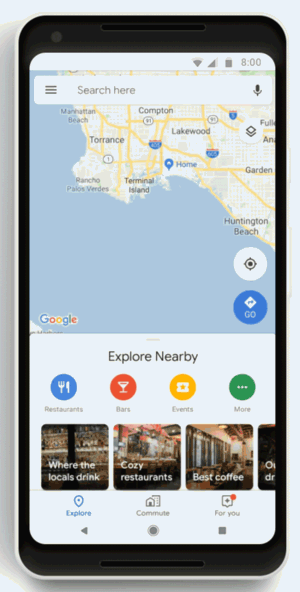 There's a new feature for people whose commutes involve both driving and public transit. You can see information about when to leave, and for each leg of your trip: you'll know if there's traffic on your drive, when the next train departs, and how long it'll take to walk from the train station to the office. Google will do the work for you and automatically factor this into your ETA so you can anticipate exactly when you'll get to work.
In addition, transit riders in 80 regions worldwide will be able to see exactly where their bus or train is in real time on the map. And in Sydney, Google partnered with Transport New South Wales to show how full you next bus or train is - so you'll know whether or not you'll get a seat. Googel says this feature will be coming to more cities around the globe soon.

If you have to sit in traffic, you may as well do it while listening to good music. Google is making Spotify, Apple Music, and Google Play Music available within Google Maps so that you can control your tunes and podcasts right from Google Maps navigation. With Spotify on Android you can also choose your favorite content by browsing through songs, albums, podcasts, and playlists with the new navigation.
Google's new commute features start rolling out globally on Android and iOS this week. To get started, update your app from the Play Store or App Store.