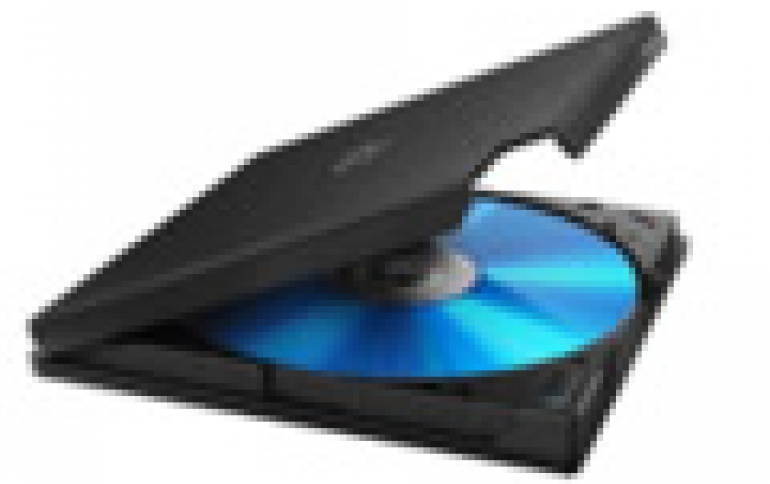 New Pioneer BDR-XD07 External Blu-ray Burners Connect Directly to Android Smartphones
Pioneer has released a series of external Blu-ray disc burners in Japan, featuring a USB-C cable to connect to Android devices and easily transfer their audio CD libraries.
Available in Japan next month, the BDR-XD07J-UHD, BDR-XD07BK, BDR-XD07R and BDR-XD07 W models are bundled with a USB Type-C cable to connect to Android devices. With Pioneer's 'Stellanova' Wireless Hi-Res player app installed to an Android smartphone, Japanese users can dirtectly import and playback audio CDs, without using a PC. However, this kind of conection requires an external power supply for the BD drives (DCA-003 AC adapter), which is sold seperately.

The external drives are available in black, red, and white colors. They have a slim, clamshell design, and support playback of Ultra HD Blu-ray discs, besides the typical CD/DVD/BD burning features: 6x for BD-R /-R DL / -R (LTH)/ M-DISC DL, 8x with DVD-R/ +R / -RW /+RW, and 24x for CD-R/RW.
Specifications
Recording support
BD
BD-R (Single / Dual / Triple / Quadruple layer),
BD-RE (Single / Dual / Triple layer),
BD-R (LTH), M-DISC (Single / Dual / Triple layer)
DVD
DVD - R, DVD - R, DVD - R DL, DVD - RW, DVD + R, DVD + R DL, DVD + RW, Highspeed DVD + RW, DVD - RAM , M - DISC
CD
CD-R, CD-RW, HS CD-RW, US CD-RW, US + CD-RW
Playing support
BD
Ultra HD Blu-ray (BD-ROM Dual / Triple layer)
BD-R (Single / Dual Layer), BD-R (Single / Dual / Triple / Quadruple Layer), BD-RE (Single / Dual / Triple Layer), BD-
M-DISC (Single / Dual / Triple layer)
DVD
DVD + RW, DVD + R DL, DVD + RW, DVD-RAM , M-DISC (Single / Dual layer), DVD-Video, DVD-R, DVD-R DL, DVD-
CD
CD-ROM (Mode 1 & 2), CD-ROM XA, CD-R, CD-RW, Photo CD (Single / Multi-session), Video CD, CD-DA, CD-
Interface
USB 3.0 / 2.0
Write speed
BD
-R
2x, 4x, 6x
-R DL
2x, 4x, 6x
-R TL
2x, 4x
-R QL
2x, 4x
-R (LTH)
2x, 4x, 6x
-RE
2x
-RE DL
2x
-RE TL
2x
M-DISC SL / TL
2x, 4x
M-DISC DL
2x, 4x, 6x
DVD
-R
1 x, 2 x, 4 x, 6 x, 8 x
-R DL
2x, 4x, 6x
-RW
1 x, 2 x, 4 x, 6 x
+ R
2.4x, 4x, 6x, 8x
+ R DL
2.4x, 4x, 6x
+ RW
2.4x, 4x, 6x, 8x
-RAM
2x, 3x, 5x
M-DISC
2x, 4x
CD
-R
4x, 10x, 16x, 24x
-RW
4x, 10x, 16x, 24x
Read speed
BD-ROM (1 layer)
6 x Max
BD-ROM (2 layers)
6 x Max
M-DISC BD
6 x Max
DVD-ROM (1 layer)
8 x Max
DVD-ROM (2 layers)
8 x Max
M-DISC DVD
8 x Max
CD-ROM
24 x Max
Buffer memory
4 MB
Installation
Landscape
Dimensions
133 mm x 14.8 mm x 133 mm (W x H x D)
Weight
230 g