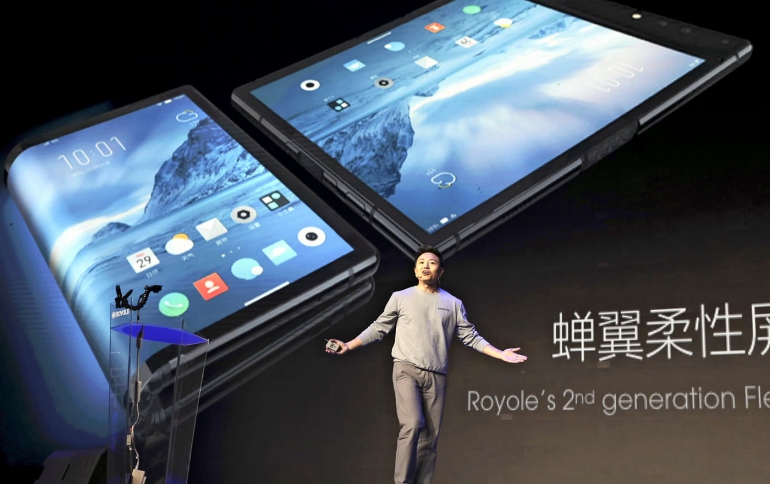 No Huawei or Samsung. World's first Foldable Smartphone Unveiled by Chinese Royole
Chinese startup Royole has released FlexPai, the first trully foldable smartphone, beating global heavyweights such as Huawei and Samsung in the race for the release of the anticipated smartphone concept.
The wallet-like FlexPai smartphone is available for pew-order, with prices to start at 8,999 yuan ($1,306). It will be available only to Chinese consumers in December but a developer model will also reach overseas markets.
Royole Corp., a manufacturer of human-machine interface technologies and products including advanced flexible displays, flexible sensors, and smart devices, says that the Royole FlexPai can be used either folded or unfolded, giving it the portability of a smartphone plus the screen size of a 7.8" high-definition tablet. The FlexPai foldable smartphone is based on Royole's Flexible+ platform, which can be integrated into a variety of products and applications across numerous industries.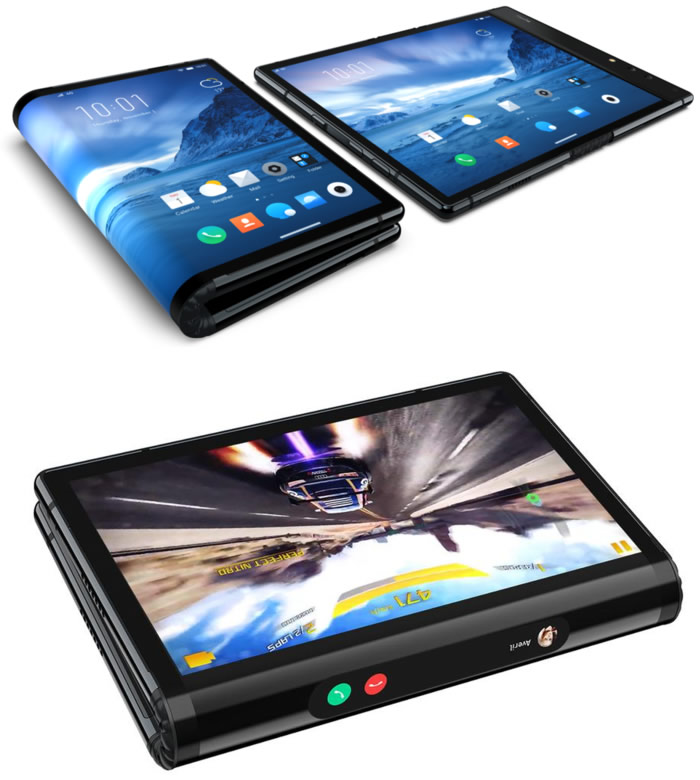 "The Royole FlexPai foldable smartphone provides mobile phone users with a revolutionary, different experience compared to traditional phones," stated Dr. Bill Liu, Royole founder and CEO. "It perfectly solves the contradiction between the high-definition large-screen experience and portability, which introduces a whole new dimension to the human-machine interface. The phone's inherent design will forever change the consumer electronics industry, as well as the way people interact with and perceive their world."
When unfolded, FlexPai supports split-screen mode and multi-tasking; supports drag-and-drop across applications, enabling it to share features just as a computer does; automatically adjusts screen sizes; and provides video-watching and gaming.
When folded, FlexPai can support dual screens with separate, simultaneous operations. The interface on the primary and secondary screens can mutually interact with each other, or independently use different interfaces without interfering with one another. Users can also get notifications on the edge screen side bar, which can be used to manage calls, messages, and other notices that may disturb the primary and secondary screen usage. The edge screen has a resolution of 390 x 1440 and an aspect ratio of 21:6.

The FlexPai's screen is one complete, fully flexible display with light, thin, colorful, and bendable features. Royole says that its proprietary technologies ensure the FlexPai's "stability, reliability, and long life span." The device has passed bending, twisting, and tension tests over 200,000 times, and can also be folded at different angles. On the software side, its Water OS automatically adapts different viewing modes for different folding angles and user scenarios, such as taking photos, office usage, video watching, gaming, and more. FlexPai has the following aspect ratios: 4:3, 16:9 and 18:9.
FlexPai uses Qualcomm's latest Snapdragon 8-series flagship SoC, integrating powerful AI and advanced chip process technology. Its camera set-up is made up of a 20-megapixel telephoto lens, and a 16-megapixel wide-angle lens, that can be used for both normal photo shooting or taking a selfie, thanks to the dual view camera mode. Fast-charge is powered by the company's own Ro-Charge technology, which delivers a speed increase of 40%. Other features are also readily available on the device, including expandable storage with MicroSD, fingerprint ID, USB-C charging, stereo speakers, and more.
Royole's flexible displays are produced at the company's new quasi-G6 mass production campus in Shenzhen, China, a 100% self-designed, R&D and manufacturing facility with a total investment of around $1.7B. Production capability exceeds 50-million fully flexible display units per year.
Royole has also developed and mass produced flexible sensor technology that delivers high-precision, linearity, and sensitivity. Royole sensors are fully compatible with flexible and traditional applications and deliver a bending radius of just 1-3mm that is operational even after 200,000 bends.
During the global product launch, Dr. Bill Liu announced Royole's "Global Developer Support Project". The company will use (USD) $30 million to support and reward global software developers to develop a variety of new apps for FlexPai.
Specifications
Model: RY1201
Operating System: Water OS (Based on Android 9.0)
CPU: Model Qualcomm Snapdragon 8 series SoC Core Octa-Core Clock Rate 2.8 GHz
Display

Dimension 7.8 in. diagonal
Type Flexible AMOLED
Resolution 1920 x 1440 (expanded mode)
Ratio 4:3 (expanded mode)
Pixel Density 308 PPI

Memory

RAM: 6 GB/8 GB (Actual formatted capacity less)
ROM 128 GB/256 GB/512 GB (Actual formatted capacity less)
Supported Memory Card: MicroSD Expandable
Storage: Up to 256 GB

Camera

Number of Pixels: 16 MP+20 MP
Aperture: f/1.8
Autofocus, Optical Image Stabilizer, Flash

Network:

GSM/GPRS/EDGE B2/B3/B5/B8
UMTS B1/B2/B5/B8
CDMA BC0 BC0
TD-SCDMA B34/B39
LTE FDD B1/B3/B4/B7/B8/B12
LTE TDD B34/B38/B39/B40/B41

Transmission

WLAN
WLAN Hotspot
Bluetooth 5.1
Location Services: GPS, A-GPS, BEIDOU
Multi-screen Interactions
Headphone Plug: Type-C
Cable Plug: Type-C

Height: 134 mm
Width: 190.35 mm
Depth: 7.6 mm
Weight: 320 g
SIMs

Nano SIM
Sub SIM Nano SIM
Simultaneous 4G Operation, except when using 2 SIM cards from China Telecom
Carriers Supported at launch: China Mobile, China Telecom, China Unicom

Battery:

Built-in Lithium Polymer Battery
Storage 3800 mAh
Charger 5V/5A (Royole Ro-Charge Adapter)

Sensors: Ambient light, Proximity, Accelerometer, Multi-axis gyro, Compass, Hall effect sensor, Barometer
Fingerprint ID