Outlook.com Integrates Skype
Microsoft is rolling out a preview version of Skype for Outlook.com, bringing two communication experiences in one place. This Skype for Outlook.com preview is beginning to roll out in the United Kingdom and will be made available in the United States and Germany in the coming weeks. In the coming months, audio and video calling powered by Skype will be available in every Outlook.com inbox.
Outlook.com, Microsoft's free personal email service, has attracted 60 million new users in the first six months after launch, according to Microsoft.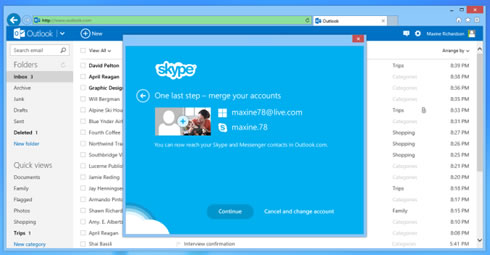 Skype for Outlook.com requires a one-time download of a plugin for your browser (available for the most recent versions of Internet Explorer, Chrome and Firefox). After you download the plugin, connect Skype to Outlook.com using your Microsoft account.
Users who alreay have Skype accounts will be asked to link Skype and Outlook.com in a few steps.