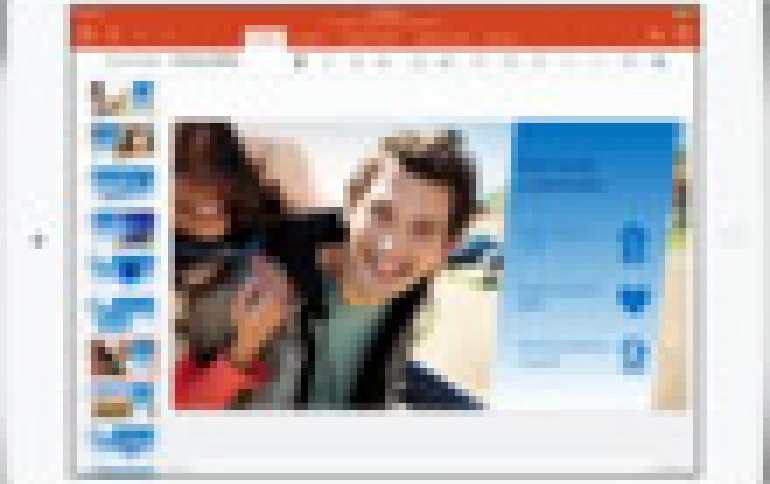 Philips Announces Its 2014 TV Lineup
TP Vision, the exclusive brand licensee of Philips TV, has just announced its latest TV series for this year, which include 4K models as well as an Android powered Smart TV. We start with the high-end TP Vision 7000 range, which includes of the slim 7100, 7500, and 7800 (4K) series. The models feature a frameless design made of glass and metal.
The 7000 series features Micro Dimming Pro, a sensor-based technology that dynamically adapts the LED backlight depending on the ambient room light.
The 7800 series is the first Philips 4K ULTRA HD model being introduced in 2014. The upscaling feature Ultra Resolution allows any content to be viewed in vivid 4K ULTRA HD resolution.
The 7500 series features a wireless sub-woofer that can be discreetly hidden under an armchair or the sofa. Its omnidirectional bass together with the light effects from three-sided Ambilight create a cinema-like atmosphere.
Ambilight - two-sided on 7100 and 7800 series and three-sided on 7500 series - now offers an additional Gaming Mode. It enables Ambilight to follow the fast moving scenes of action and sports games. The integrated Ambilight+hue control panel allows users without the need for smartphones to setup and control the Philips Hue lamps.
Philips 7000 series TVs provide full access to the Philips Smart TV offering, which include access to video rental, video on demand, catch-up TV, and online apps. Cloud TV lets users choose from online TV channels from all over the world. In addition, the 7500 series models support pointing control to facilitate navigation through the menu and app galleries.
The Philips 7000 series also support Philips MyRemote app, Wi-Fi Miracast and SimplyShare to allow wireless streaming to and from mobile devices.
The new TP Vision Full-HD 8100 and 8200 Philips TVs and the Ultra HD 8800 series are powered by Android. Thanks to the availability of both Google Play and Philips Smart TV they provide access to Google services and features including Google Chrome browser, YouTube, Google Movies, Google Music, and Google search.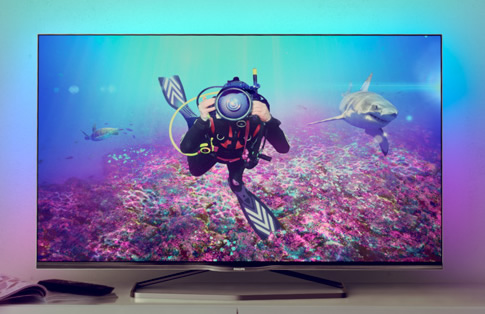 The first Philips TVs featuring Android will be available from the second quarter 2014 in Europe and Russia.
The 8100 and 8200 models are powered by quad-core or even hexcore processors to offer great gaming, with games to be operated via pointer and cursor or via a separate controller.
The Philips 8000 series also features 800 Hz Perfect Motion Rate plus Super Resolution (8100, 8200) or 1000 Hz Perfect Motion Rate Ultra plus Ultra Resolution (8800). They also feature Local Contrast to improve the screens? splendid contrast, Micro Dimming Pro, Ultra Resolution and real time upscaling to 4K.
In addition, Philips 8800 TVs uses the integrated camera and offers a picture setting that automatically detects the viewer and adapts sharpness accordingly.
The Philips 8000 series also feature 4-sided Ambilight with the newly integrated Ambilight gaming mode. And the models can be controlled via pointing, cursor navigation, typing, talking or making gestures.
Next to their interfaces and ports, they also support Philips TV Remote app, Wi-Fi Miracast and SimplyShare.
The new Philips 6000 range includes the 6100, 6300, 6400, 6500, 6600, and 6700 series. Available from the second quarter of 2014 in Europe and Russia, the 6000 series applies glass and metal and features various frameless and narrow bezel designs in white, silver and black.
The dual-core powered 6100 and 6300 series Philips TVs feature Micro Dimming while from the 6400 series upwards, the Philips TVs feature Micro Dimming Pro, which adds information about the ambient light conditions to the dimming algorithm. A Perfect Motion Rate of 600 Hz ensures a flicker-free TV experience.
In addition Philips 6300, 6500, 6600, and 6700 models offer the dynamic two-sided Ambilight glow of light around them.
TP Vision also presents two more affordable Philips TV lines with screens ranging from 51cm (20") up to 139cm (55"), which will be available in the second quarter 2014 in Europe including Russia and Latin America.
The Philips 4500, 5500, 5600 and 5700 series Smart TVs feature a Perfect Motion Range of 200 Hz and up, Micro Dimming, USB memory stick slots and DLNA connectivity.
The Philips 4500, 5500, 5600 and 5700 series Smart TVs can connect to the internet ? either via USB Wi-Fi dongle (4500), available as an accessory - or via an integrated Wi-Fi interface. Thanks to the integrated digital tuner and CI+-slots, the Philips Smart TVs can cope with all scenarios for TV usage.