Samsung Introduces New ARTIK Smart IoT Platform Modules
Samsung Electronics today introduced its SAMSUNG ARTIK Smart Internet of Things (IoT) platform featuring two new module families, ARTIK 0 and ARTIK 7, and new device management capabilities in SAMSUNG ARTIK Cloud. The SAMSUNG ARTIK Smart IoT platform unifies hardware, software, cloud, security and partner ecosystems in a single offering. The platform makes it easy to build IoT products and services by addressing the complexity of IoT with open and enterprise-grade APIs, SDKs and tools. Key additions to the new SAMSUNG ARTIK platform include:
ARTIK 0 family: The ARTIK 0 family of modules enables low-power, lightweight, cost-optimized devices targeted at end-devices including HVAC, lighting, industrial sensors, personal health monitoring and more. The modules are built on power-optimized ARM Cortex-M microcontrollers and support low-power wireless standards, such as the ZigBee, Thread, or Bluetooth Smart standards. They provide a complete connectivity solution, including networking stacks, radio frequency (RF) components and precertification for regulatory approval.
ARTIK 7 family: The ARTIK 7 family of modules is intended for high-end gateways and multimedia applications. With an 8-core 64-bit Cortex A-53 processor, the modules work well as gateways and also allow Samsung's customers to run local analytics, which enables offloading of cloud computing locally. The ARTIK 7 features built-in Wi-Fi, Bluetooth, ZigBee, Thread and GbE MAC interfaces. It has a high-end multimedia processor for video and audio processing. It comes with a Linux OS pre-installed, it is RF pre-certified and features enterprise-class security.
Device management: the new SAMSUNG ARTIK modules are designed to work out of the box with the SAMSUNG ARTIK Cloud, an open data-exchange platform that connects devices, applications and other clouds, enabling the Interoperability of Things. Device manufacturers can now monitor and manage their fleet of deployed devices, both edge nodes and gateways, using SAMSUNG ARTIK Cloud. They can identify each device, monitor its connectivity status, manage properties, such as firmware version and battery levels, and remotely execute functions on the device, including reboot, factory reset, firmware update, and reset error code.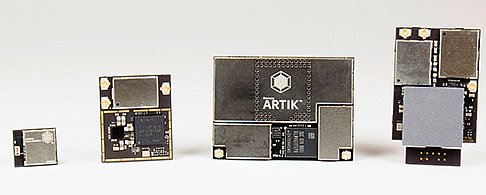 As a member of the Open Connectivity Foundation (OCF), an IoT industry standard group, Samsung is also bringing open IoT technologies to advance interoperability between connected devices and enable the full operating potential of IoT by leveraging the SAMSUNG ARTIK platform and IoTivity open-source software.
The new SAMSUNG ARTIK modules are available for order immediately and worldwide through distribution partners, Arrow, Digi-Key and Mujin.