Samsung Launches Galaxy S II In Korea
Samsung launched a new version of its flagship smartphone Galaxy S in South Korea ahead of its global debut in May, targeting global sales of over 10 million this year.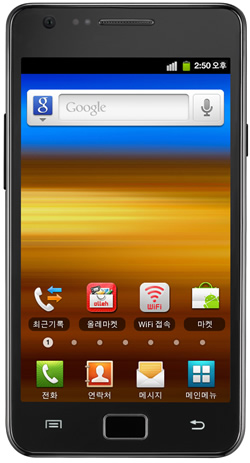 The i9100 or Galaxy S II smartphone as well as the new Galaxy Pad II tablet appeared at the Mobile World Congress 2011 in Barcelona in Barcelona earlier this month.
Samsung believes that the Galaxy S II will help boost the company's smartphone shipments to 60 million units this year. The new snartphone will be released globally from May through 140 operators in 120 countries. Samsung aims to sell more than 10 million units of the new smartphone this year.
The Galaxy S II is based on Google's Android operating system and comes with a 1.2GHz Dual Core Snapdragon CPU (Qualcomm 8260), a 4.27" 800 x 480 (WVGA) super AMOLED plus screen, a 8Mpix Camera with AF and Touch Focus on the back and a 2Mpix one on the front, 512MB of RAM and 16GB of Internal Memory, AGPS, Digital Compact, Gyrometer, Accelerometer, Proximity Senor and Ambient Light Sensor.
For wireless communications, the Wi-Fi (802.11 a/b/g/n) and Bluetooth 3.0 can be quite handy. The Galaxy S 2 will also support HSPA+ .
The smartphone comes with Full HD video recoding at 30fps as well as Video Zoom and support MP4, 3GP, DivX, XviD and Streaming video.
The device weighs 116g and it measures at a mere 8.49mm.
Samsung has selected the Samsung GALAXY S II as its premium mobile product with which to launch Samsung Hubs - integrated mobile applications. With Samsung Hubs, the Samsung GALAXY S II delivers catalogues of books and magazines, music, advanced mobile games and control of your online social life, all from a single device.
New for the Samsung GALAXY S II, Samsung has introduced Live Panel, a service that aggregates live web and application contents to a single customizable home-screen. Users can design the lay-out of their own Live Panel, online services and mobile apps to appear on-screen. SNS feeds, information and many more applications can all be embedded and accessed instantly through the magazine-like layout.
With the enhanced voice technology on the Samsung GALAXY S II, Users will be able to do more with less. From opening the app to controlling the messaging, social media, email and calling, Samsung Voice Solution will recognizes voice and convert it to text and vice versa. Customized Voice Translation application makes the Samsung GALAXY S II the perfect travel companion, translating voice or text into - and from - a range of languages: simply speak a word or phrase into the handset and it will instantly translate it, with audio and text output.
The GALAXY S II is also able to incorporate Near Field Communication (NFC) technology to support emerging mobile payment service and other services with mobile operators.
The new product will be sold in South Korea through operators SK Telecom, KT Corp and LG Uplus.