Samsung Releases The SE-S084D Slim External DVD Writer
Samsung new slim external DVD writer, the SE-S084D. Featuring a more compact footprint and lighter weight than any othre ODD, the new DVD writer also delivers high-performance with a USB power source. The new SE-S084D has won the iF Product Award Design, which is one of the world's top three leading design awards. The drive features a rounded shape and compact size that is 20% smaller than conventional DVD writers. It is 25% lighter than Samsung's conventional DVD writer to accommodate today?s hectic mobile lifestyle.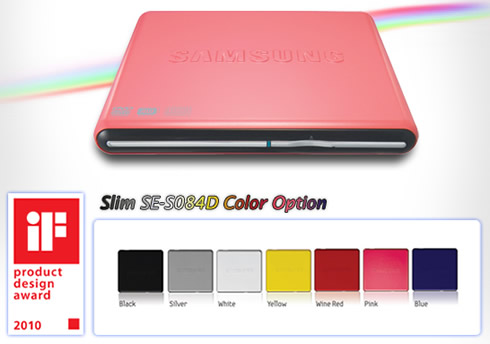 The drive is also equipped with AV connectivity, which enables you to play multimedia files including videos and image files from disk on TV or other AV screen, just the same way as you do with external HDD or USB memory stick.

In addition, the drive features a touch-type eject button and it will be available in seven colors.
The SE-S084D DVD writer is engineered to be compatible with all major operating systems, including Win7 and Mac OS. The new DVD writer features Buffer Under Run technology to prevent errors that result from writing speeds that exceed data transfer speeds, while also enabling PC multi-tasking.
The SE-S084D DVD writer is an eco-friendly product, manufactured with lead-free soldering technology plus harmful materials such as Pb, cd, cr+6, Hg, PBBs and PBDE have been eliminated.
The DVD writer drive provides a variety of speeds across different data media types including: 24X CD-ROM, 24X CD-RW, 8X DVD±R recording, 5X DVD-RAM recording, 8X DVD+R Dual Layer recording, 6X DVD-R Dual Layer recording, 8X DVD+RW recording and 6X DVD-RW recording.
The SE-S084D will be available worldwide starting from this month.