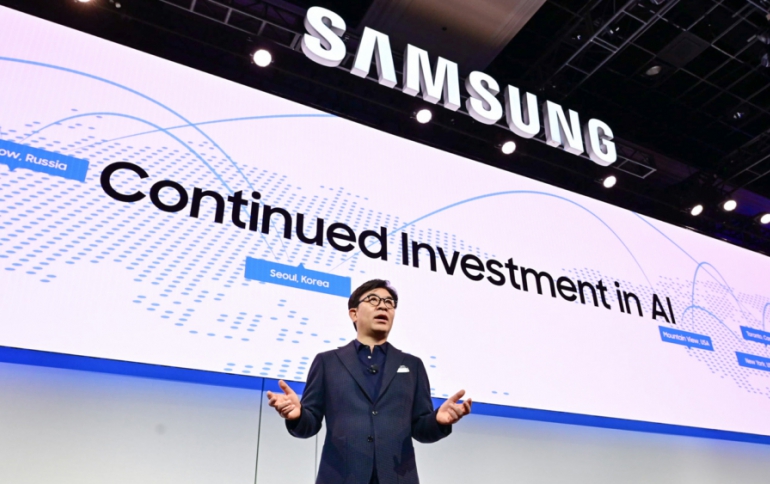 Samsung Unveils 98-inch 8K TV, Bixby Integration at CES 2019
HS Kim, President and CEO of Consumer Electronics Division at Samsung Electronics, unveiled Samsung's vision for Connected Living at the company's CES Press Conference in Las Vegas on Monday, Jan. 7, 2019.
Samsung showcased its leadership in AI, IoT, and 5G technologies, and highlighted these as the foundation for next-level consumer experiences across the company's product portfolio. The company also unveiled its future AI-powered robotics platforms, which can be used to manage activities of daily living, such as helping an aging population independently manage their health routine.
Driving Samsung's Connected Living philosophy is the Intelligence of Things – IoT, 5G, and AI working together across devices. At its press conference in Las Vegas today, the company explained how its work in these core technologies is enabling innovation throughout its product portfolio.
Since unifying the SmartThings app and introducing the SmartThings Cloud, the SmartThings ecosystem has grown significantly. Samsung says that the number of registered SmartThings users has grown 220 percent and app installs have increased 61 percent. The number of partners participating in this ecosystem has also grown by 44 percent. Today, consumers can enjoy SmartThings experiences with devices from top global brands like Amazon, Google, Bose, Sylvania, and Plume.
Samsung is the number one patent holder with ETSI, having registered more than 2,000 5G essential patents as of November 2018. And it is the world's first company to receive FCC approval on its commercial 5G equipment. The company powered the commercialization of home and mobile 5G networks with major U.S. carriers and all three mobile carriers in Korea, with additional trials running in Europe and Asia. Samsung is also committed to putting the power of 5G in consumers' hands, with a 5G smartphone coming in the first half of 2019.
Samsung believes that AI is most useful when it helps to simplify a complex world. To that end, the company established seven Global AI Centers, and is adopting technologies into its products and services. And to ensure that Samsung works with the best and the brightest in the field, Samsung NEXT and the Samsung Strategy and Innovation Center (SSIC) have invested in more than 20 AI-related startups over the last five years.
Bixby started as a smarter way to use your Galaxy phone. Today, it is evolving to become a scalable, open AI platform that will support more and more devices. The company announced that Bixby intelligence will be infused into its 2019 QLED and premium TVs, and smart appliances like refrigerators, washers, as well as air conditioners, mobile devices, AI speakers and more. What's more, Bixby is expanding to a new Digital Cockpit and robotics platforms.
Uber, Ticketmaster and others are using Bixby to make their services more intelligent. Today, Samsung announced that iHeartRadio joined as a new partner. And, Bixby will continue to grow as more partners, such as Google, join the ecosystem.
Samsung also announced its core AI philosophy: Fairness, Accountability, and Transparency. As it works to advance AI technology, Samsung is committed to ensuring the algorithms it builds are inclusive, the protection of user information and privacy are top priorities, and it's easy for consumers to understand what the company does with their data and how it is handled.
Samsung also introduced a lineup of new products.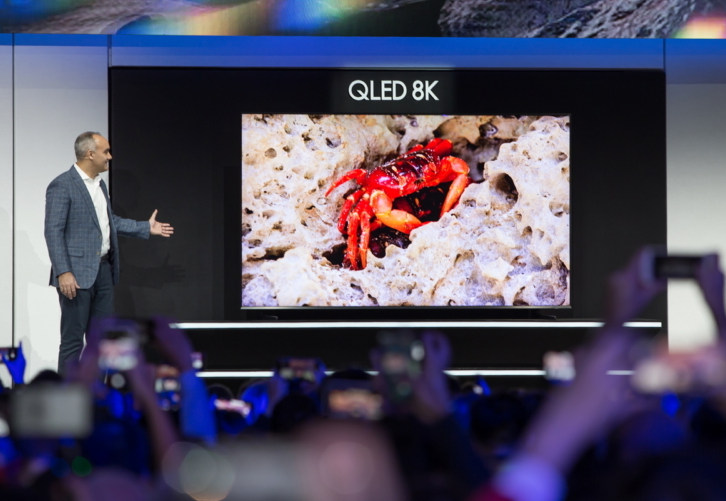 The company unveiled its 98" QLED 8K – it's largest yet – adding to its 2019 lineup that features 65", 75", 82", and 85" models. Embedded with the Quantum Processor 8K chip, the 2019 8K line delivers the QLED picture quality, design, smart features in more sizes than ever in 8K resolution. Whether a viewer is watching content through a streaming service, set-top box, HDMI, USB or even mobile screen mirroring, Samsung's proprietary AI-based technology can recognize and upscale any content, regardless of the native resolution, to near pristine 8K quality.
In 2019, Samsung Smart TVs offer more ways to search for content and more compatibility with connected devices than ever before. With an improved AI algorithm that leverages a user's subscription services, favorite content, and TV viewing habits, the Universal Guide makes it easier for users to find the perfect show for them to watch. Users also have more options than ever to quickly find and control their favorite content with just their voice by using new Bixby and the AI Remote as well as even more ways to control their Samsung TVs through Amazon Echo and Google Home.
In a move to deliver more entertainment options, value and open platform functionality to Samsung Smart TV users, Samsung announced it will offer iTunes Movies and TV Shows and Apple AirPlay 2 support on 2019 Samsung Smart TV models beginning this spring. Support on 2018 Samsung Smart TVs will be made available via a firmware update. In an industry first, a new iTunes Movies and TV Shows app will debut only on Samsung Smart TVs in more than 100 countries. AirPlay 2 support will be available on Samsung Smart TVs in 190 countries worldwide.
Samsung also presented its latest development with HARMAN. The Digital Cockpit 2019 offers an enhanced connected car experience focused on connectivity, personalization, and safety.
With the integration of Bixby's connected car experience, drivers can remotely check how much gas they have before going on a long road trip or set the car temperature before heading out for the day. Using onboard cameras, the new Digital Cockpit recognizes specific drivers and passengers and sets up the car's personal space accordingly – adjusting the display preferences, seat height, lighting, and queuing up favorite playlists. Passengers can even enjoy personalized screens on the rear seats and connect to In-vehicle Samsung DeX to get work done on-the-go. The Digital Cockpit 2019 also provides a safer driving experience with the mirror replacement vision system and camera-based safety solutions.
All of this is possible thanks to Cellular-V2X technology that incorporates Samsung's expertise in mobile network solutions with automotive technologies.
In order to power tomorrow's AI technologies, Samsung emphasized that today's AI infrastructure must evolve to handle intelligence at the edge. For this reason, the company is working to launch a portfolio of solutions that will shape the future of intelligent devices.
Samsung offered a peek into the future of Connected Living by demonstrating its latest developments in robotics platforms including the Samsung Bot Care, Samsung Bot Air, Samsung Bot Retail, and Samsung GEMS. Among the robotics platforms, Samsung gave a first public demonstration of Samsung Bot Care, which helps consumers manage their daily health routines.
Samsung Notebook 9 Pro and the Samsung Notebook Flash
Samsung also unveiled two new Notebook PCs that combine style and power at the 2019 Consumer Electronics Show: the Samsung Notebook 9 Pro and the Samsung Notebook Flash.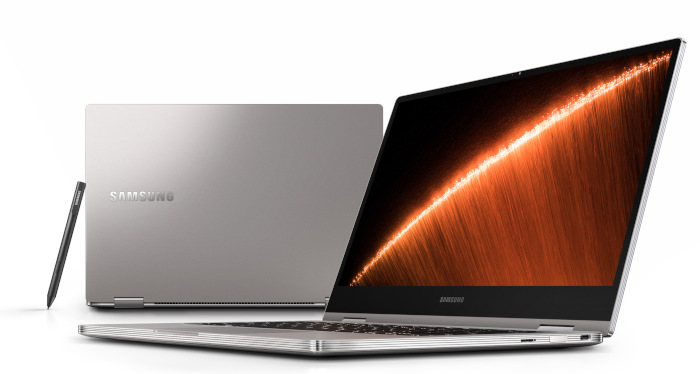 The Samsung Notebook 9 Pro is re-designed featuring a metal exterior and fashionable diamond-cut edges, along with performance that delivers ultra-fast processing.
The Samsung Notebook 9 Pro takes advantage of a 13.3" FHD display, reduced bezels 6.7mm) and dual 1.5W stereo speakers with Thunder Amp to increase maximum volume output. It also features a redesigned keyboard, and 14 hours of battery life.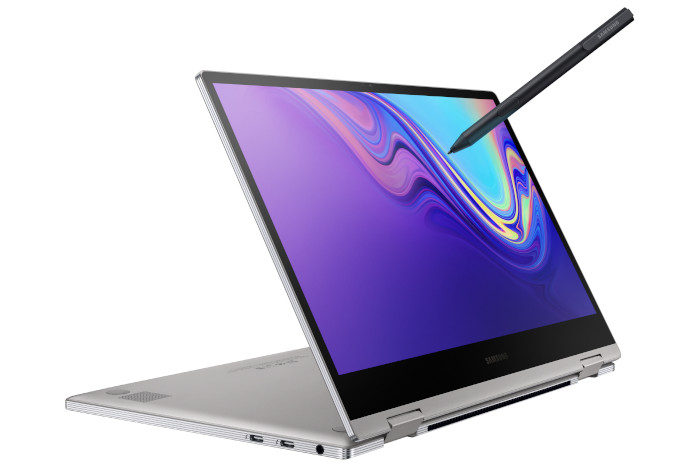 The Samsung Notebook 9 Pro runs on a Windows 10 Home operating system. The Active Pen—with more than 4000 levels of pressure sensitivity—comes included in the box.
The Samsung Notebook 9 Pro will be available in early 2019.
Accessibility and speed join together with the Samsung Notebook Flash, a laptop with modern features available at an affordable price point. It is equipped with Gigabit-Wifi technology, lets users log-in instantly with a fingerprint scanner, and offers expandable storage (sold separately) with a Universal Flash Storage/MicroSD Memory slot.
Available in charcoal color in the US, the Samsung Notebook Flash has a textile-patterned chassis, all in a compact 13.3" package. It has an overall fun retro design, including a typewriter keyboard, multiple port options, and 10 hour battery life.
The Samsung Notebook Flash will start at $349.99 beginning on January 15, 2019 at Amazon and Samsung.com.
Processor
Samsung Notebook 9 Pro
Samsung Notebook Flash
8th Gen Intel Core i7-8565U
Intel Celeron N4000 ($349.99)
Intel Pentium Silver N5000 ($399.99)
Memory
8G LPDDR3
4GB
OS
Windows 10 Home
Windows 10 Home
Storage
256G PCIe NVMe
64GB eMMC
Wireless
802.11ac 2x2 (Giga)
802.11ac 2x2 (Giga)
Graphics
Intel UHD 620 graphics
Internal
Power
55Wh, Fast Charging
39Wh
Weight
2.84 lbs
3.02 lbs
Dimension
12.1" x 8.1" x .55"
12.69" x 8.64" x 0.67"
Ports
Thunderbolt 3 x2, USB-C x1, 3.5mm, microSD
USB-C x2, USB 3.0 x1, USB 2.0 x1, HDMI x1, 3.5mm, UFS & MicroSD Combo
Material
Aluminium True Metal
Plastic
Display
13.3" FHD, 6.7mm bezel, 350 nits
13.3" FHD LED Display (1920 x 1080), Anti-Glare
Camera
HD Camera
Web Cam
Speaker
1.5W x2, Thunder Amp
1.5W x2
Stylus
Active Pen (included)
N/A
Security
Fingerprint
Fingerprint
Keyboard
Backlit
Typewriter