Samsung Unveils New 5G NR Integrated Radio Supporting 28GHz, 5G RFIC Chip at MWC LA 2019
Today at MWC LA 2019, Samsung Electronics announced its new 5G New Radio Access Unit supporting 28GHz spectrum. The company also launched a new 5G RFIC chip for the 24-27GHz spectrum, which will support new radios in 2020.
Samsung's new 5G New Radio (NR) Access Unit (AU) brings together a radio, antenna and digital unit into one box. It is an integrated radio for mmWave spectrum compliant to the 3GPP NR standard.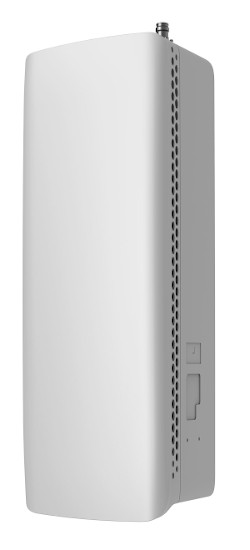 Earlier this year, Samsung Networks deployed its first-generation 5G NR radio base stations in the U.S. with separated radio and digital units (RU-DU separated radio). By integrating these RU-DU technologies with 1,024 antenna elements for mmWave spectrum into one box, the new AU can be more easily installed on streetlight poles and building walls.
The AU is able to deliver a capacity of 10Gbps throughput. Additionally, improved cost-efficiency is achieved by eliminating the need for 'fronthaul' fiber connections, thanks to the AU's integration of the digital unit. Samsung said it is currently shipping the new AU to "a leading U.S. Tier One mobile network operator."
Samsung's new AU uses Samsung's in-house 5G RF chipset and the company's first 5G NR system-on-a-chip (SoC) modem (S9100).
This chipset enables an approximate 25 percent reduction in size, weight and power consumption, when compared to the same solution without an embedded 5G RF chipset. The AU's new 5G NR modem substantially increases power efficiency.
Samsung is also expanding its 5G portfolio to help operators have wider choice in selecting radio solutions for different deployment scenarios. The company currently has commercial solutions for 2.5GHz, 3.5-4.1GHz, 26-28GHz and 39GHz and today launched a new 5G RFIC chip for the 24-27GHz spectrum, which will support new radios in 2020. The 5G portfolio now includes a mix of integrated and non-integrated architectures as well as transceiver paths (4T4R and 2T2R) to meet multiple deployment scenarios for operators – outdoor pole-mount, strand-mount, in-building, and others.