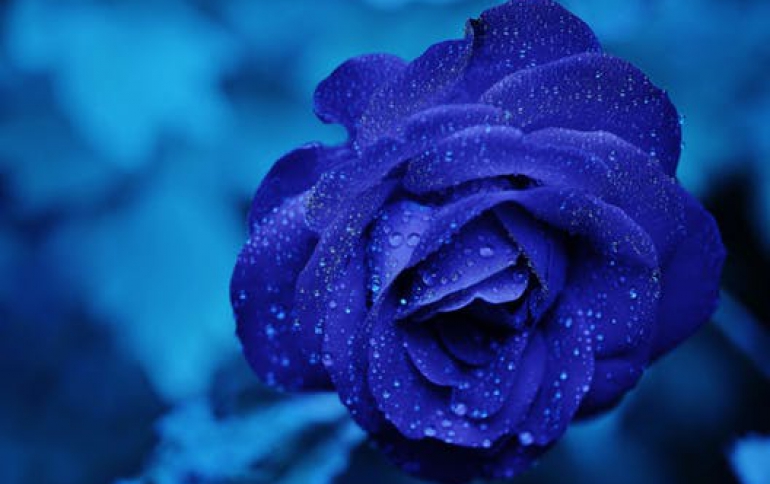 Sony Unveils New PXW-FS7 Compact 4K XDCAM Camera, PXW-X200 XDCAM Camcorder And Professional Memory Cards
Sony's newest addition to its large sensor line iis the new PXW-FS7 XDCAM Super 35 camcorder. The company also announced today the the PXW-X200 solid state memory camcorders along with new SxS professional memory cards designed for capture of high frame rate 4K video content. The new PXW-FS7 XDCAM Super 35 camcorder combines the flexibility of native E-mount technology, the recording efficiency of the XAVC-L codec; the transfer speed of XQD memory cards; and handheld ergonomics.
The PXW-FS7 is a native E-mount camcorder designed to give users lens options and flexibility, smooth and silent iris, focus and zoom control, with auto exposure and SteadyShot stabilization. A shallow, 18 mm flange-back distance enables the use of a range of 35mm lenses. Sony's optional LA-EA4 A-mount lens adaptor allows compatibility with a wide range of high-quality A-mount lenses.
The new camera will be available in two versions: body-only, and the PXW-FS7K version with a new servo zoom E-Mount lens FE PZ 28-135mm F4 G OSS (SELP28135G).
The new E-mount lens is the world's first 35mm full-frame interchangeable power zoom lens. It features constant F4 value, independent rings for iris, zoom and focus control, and is dust- and moisture-resistant. The SELP28135G has SteadyShot stabilization, minimum focus breathing and is enabled with Sony's new Super Sonic wave Motor (SSM) to reduce zoom noise while shooting.
The PXW-FS7 is compatible with Sony´s new XAVC Intra and XAVC Long GOP formats, each supporting 10-bit 4:2:2 recording (XAVC-I, 180fps; XAVC-L, 120fps). Recording in UHD (3840 x 2160) resolution, slow motion up to 60fps and Full High Definition (1920×1080) with 60/50 progressive frames is possible. A firmware update in early 2015 will enable native HD recording in the Apple ProRes HQ 422 codec, when using an optional extension unit (XDCA-FS7).
Through the XDCA-FS7's FS-RAW interface, the PXW-FS7 is capable of 4K/2K RAW recording with Sony's HXR-IFR5 and AXS-R5, or with a compatible third-party external recorder.
The PXW-FS7 features 2 XQD card slots that support simultaneous recording and relay recording. To support the FS7's Slow and Quick motion and internal 4Krecording, a new 128 GB XQD G series with speed transfer up to 440MB/s (read) and 350MB/s (write) has been developed. XQD cards are also available in 64 and 32GB capacities.
The camera's 4 built-in ND filters allow full exposure control in a range of lighting conditions, without requiring external ND filter equipment. S-Gamut3/SLog3 & S-Gamut3.Cine/SLog3 are supported for flexibility of post-production options.The camera's 11.6 million-pixel Super35 Exmor CMOS sensor delivers sensitivity, shallow depth of field, a high signal-to-noise ratio for enhanced low light performance.
The supplied Smart Grip provides easy access to key camera functions including focus magnification; the user menu; REC start/ stop; and zoom. Its assignable wheel allows control of Iris, Focus, Audio Level and Gain.
Sony is also introducing an optional accessory, the VCT-FS7 rod support system featuring 15mm rods and an adjustable shoulder pad. This lets shooters use additional peripherals and easily attach follow focus systems or an external recorder.
Key features of the PXW-FS7
Sony's Super 35 Exmor CMOS Sensor
Native E-Mount; Compatible with A-Mount lenses (LA-EA4 A-mount lens adaptor required), 18 mm flange back distance
On-board UHD 4K (3840 x 2160) and Full HD (1920 x 1080) recording
Wide choice of recording systems
XAVC (Intra/Long GOP)
MPEG HD, 4:2:2, 50 Mbps (HD only)
Apple ProRes codec (with future upgrade and extension unit, sold separately)
RAW recording (with extension unit and outboard recorder, sold separately)
Slow & Quick Motion for over-and under-cranking
Dual XQD card slots
16-bit analog-to-digital converter
ISO 2000
Supports S-Gamut3Cine/S-Log 3 encoding
Die-cast magnesium frame
Environmentally sealed electronics
Wireless operation with CBK-WA100, sold separately
GPS
The following are planned availability and suggested list pricing for the PXW-FS7 and accessories:

PXW-FS7 4K XDCAM Super 35mm Camcorder (body only) - October 2014, suggested list price less than $10,000.
PXW-FS7K 4K XDCAM Super 35mm Camcorder (with FE PZ 28-135mm F4 G OSS lens) - December 2014, suggested list price less than $13,000.
XDCA-FS7 Extension Unit - December 2014, suggested list price less than $2,500.
SELP28135G FE PZ 28 - 135mm F4 G OSS lens – December 2014, suggested list price of $2,500.
VCT-FS7 Light-weight rod support system - December 2014, suggested list price less than $1,200.

Sony's new addition to its XDCAM range of solid state memory camcorders, the PXW-X200, incorporates an improved 1/2 inch-type Exmor 3CMOS sensor, a new 17x zoom lens and XAVC Intra/Long GOP recording with 4:2:2 10-bit sampling. The successor to Sony's PMW-200, the new camcorder has a 1/2 inch-type 3CMOS sensor and MPEG HD422 (50 Mbps) recording capability.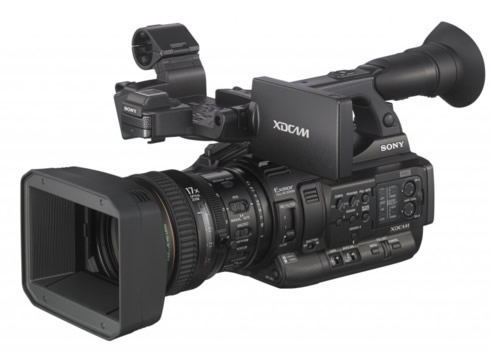 The PXW-X200 also includes new wireless/NFC (Near Field Communication) functions, live streaming audio and video, two SxS media card slots for Simultaneous Recording, a Multi-Interface (MI) Shoe, and GPS data recording, all of which will become active through a firmware update early next year.
Features of the PXW-X200
Multi-Interface (MI) Shoe for connecting accessories like the optional HVL-LBPC video light or UWP-D series wireless microphone system without XLR cables and battery pack
GPS data recording as Metadata
3G-SDI Interface for 1080/59.94P, 50P output
Slow & Quick Motion function (available for XAVC Intra, XAVC Long GOP, MPEG HD422 & MPEG HD420)
Picture Profile function (Gamma, Matrix, etc)
Genlock In, Time Code In/Out for multi-camera shooting
Focus Assist functions (Color Peaking, MF Assist, One-push AF, Focus Magnification)
3.5-type QHD (RGB 960×540) LCD Panel
Sony plans to release the PXW-X200 in November 2014.

Last but not least, Sony's newest additions to its SxS line of professional memory cards are designed for capture of high frame rate 4K video content.
Using the new cards, ultra-fast maximum read speeds of up to 3.5Gbps (440MB/s) and write speeds of up to 2.8Gbps (350MB/s) can be achieved. The new PRO + Series model numbers are SBP-64C and SBP-128C. The new SxS-1 Series models are SBS-32G1B, SBS-64G1B and the newest 128GB model, SBS-128G1B.
The new cards use a"PCIe Generation2" interface and new intelligent controller to double high-speed data transfer rates and reduce ingest time by approximately 50 percent, compared to previous SxS models.
The new SxS PRO+ and SxS-1's higher transfer speeds also offer high-speed ingest when used with Sony's new SxS Reader Writer (SBAC-US30 or UT100) and Sony's PSZSA25 solid state drive.
Sony says this combination reduces transfer times even for large 4K video files. For example, 120GB of video files of XAVC 4K 60p can be transferred to a solid state drive for backup in approximately 5 minutes, compared to 17 minutes with current SxS memory cards and professional hard drives.
Sony's SxS PRO+ series offers a minimum writing speed of 1.3 Gbps for stable recording of 4K video in XAVC 4K 60P (600Mbps) and XAVC HD 180P (600Mbps) modes.
The SxS memory cards use the PCIe platform as an interface to realize transfer speeds up to 8 Gbps (or 1,000 MB/s, theoretical maximum speed with 3rd generation).
In addition, the new cards feature data-error correction, a data-defect minimizing function for secure data recording and a "power failure management" function for re-creating video clips in case of sudden power loss or accidental card ejection during recording.
The warranty period of the SxS memory cards will 10 years from date of purchase.

Models:
PRO + series: SBP-64C and SBP-128C, available in November 2014
SxS 1 G series: SBS-32G1B, SBS-64G1B, SBS-128G1B, available in January 2015