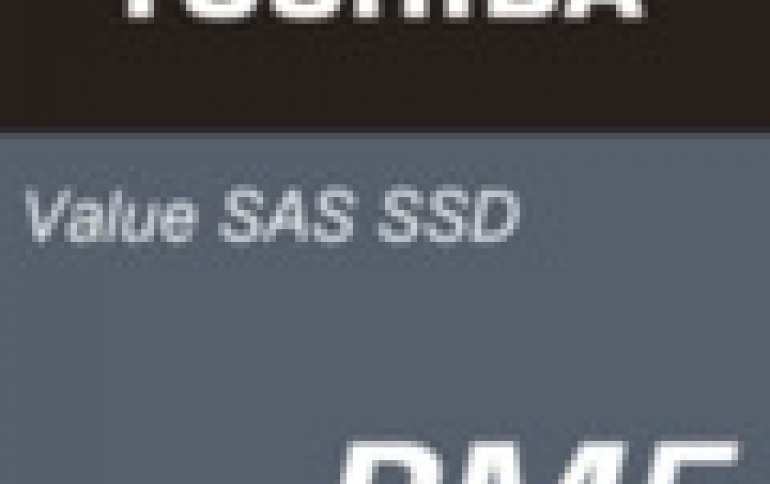 Toshiba Delivers RM5 vSAS Series SSDs Targeting SATA Applications
Toshiba unveiled a new category of SAS SSDs designed to replace SATA SSDs in server applications. The RM5 12Gbit/s value SAS (vSAS) series features capacity, performance, reliability, manageability and data security advantages - at a price that obsoletes SATA SSDs.
Designed with affordability and server applications in mind, Toshiba's RM5 vSAS series seeks to provide a cost-effective and higher performing solution to overcome the bottlenecks that are inherent with SATA today. Where SATA drives often use SAS expanders to scale out, RM5 enables the use of native SAS from end-to-end, eliminating the need for protocol translation to SATA.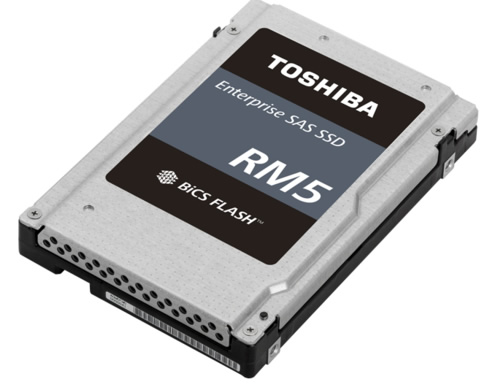 Featuring Toshiba's BiCS FLASH TLC (3-bit-per-cell) 3D flash memory, the RM5 series will initially be available in capacities up to 7.68TB2 with a single 12Gb/s port, SFF-8639 connector and in a 2.5" form factor.
Key specifications
Capacity: 960GB, 1.92TB, 3.84TB, 7.68TB
NAND: BiCS Gen. 3 TLC
Interface: 12Gbit/s SAS, single-port
Form Factors: 2.5" 15mm
Performance

Sequential Read: up to 838MB/s
Sequential Write: up to 650MB/s
Random Read: up to 150K IOPS
Random Write: 35K IOPS
Random Mixed 90/10: 110K IOPS
Latency Read/Write: 140/60μs

Endurance: 1 DWPD
MTTF: 2.5 million hours
Warranty: up to 5-year
Power

Active: up to 9W
Idle: 2.5W

Temperature

Operating: 0°C to 70°C
Non-operating: -40°C to 70°C