Toshiba at IFA 2011
Toshiba announced the launch of the Quad Full HD (3,840 x 2,160 pixels) 55ZL2 glasses-free 3D TV, the 10.1" AT200 tablet, new Blu-ray players and more at IFA 2011.
55ZL2 - Glasses Free 3D TV
The Toshiba 55ZL2 has a screen of 139cm (55") in diagonal and does not require glasses to experience 3D. Plus, it comes with a Quad Full HD screen. This enables the 55ZL2 to offer a 3D TV experience that can be enjoyed by a large group of viewers and displays 2D contents in four times (Quad) Full HD resolution. The 55ZL2's glasses-free 3D application is powered by Toshiba?s multi-processor platform CEVO-ENGINE which also allows for many more applications including PERSONAL-TV, enabling the consumer to personalise TV settings, and SMART-TV applications such as USB recording and access to Toshiba Places. It also comes with an Auto Calibration feature to achieve studio level picture quality.
The 55ZL2 will be available from December 2011 in Germany with release dates to be confirmed in other European countries.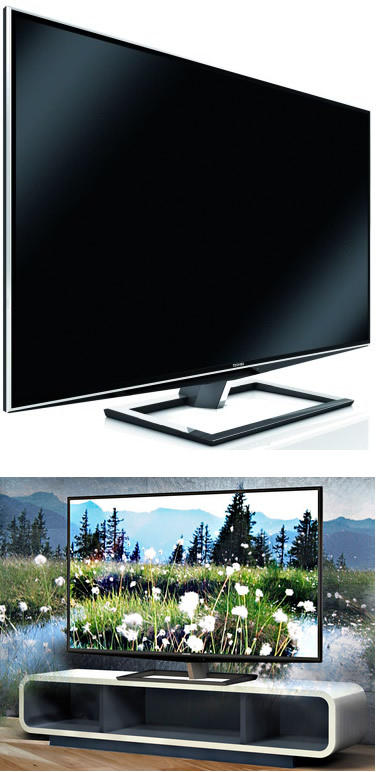 In the 55ZL2, Toshiba's engineers deployed an array of lenticular lenses that are found for the first time in such a large-screen device ready for market.Sophisticated lenslet technology delivers multiple views The glasses-free 3D technology is based on the stereoscopic principle of simultaneously delivering a picture for the left eye and another one with a small offset (parallax) for the right eye ? these are then superposed in the viewer's brain to get the 3D effect. To achieve 3D without glasses, it is essential that the lenses guide the dedicated images to the viewer's eyes. The Integral Imaging technology, powered by the CEVO-ENGINE, applied to the 55ZL2 delivers nine views which create multiple wide-angle viewing zones in front of the glasses-free 3D TV. This allows several viewers to enjoy the 3D experience at the same time without wearing glasses.
To optimise the viewing zones in respect to the viewers' actual positions in front of the TV, the 55ZL2 features a face tracking application. At the push of the remote, it detects the viewers' position and sets up the total viewing experience.
Delivering nine views from a screen in high definition picture quality is technically challenging. Toshiba therefore embedded a panel with 3,840 x 2,160 pixels, equivalent to a Quad Full HD resolution, to allow up to nine views to be displayed simultaneously. An additional bonus of the 55ZL2's high resolution screen is the ability to display 2D contents in Quad Full HD resolution.
By using complex algorithms, Toshiba?s Resolution+ technology converts content such as TV programmes in SD or HD resolution - as well as DVD or Blu-ray content in four times Full HD resolution - to make full use of the high definition of the Quad FHD display.
The 55ZL2 also features advanced SMART-TV functions providing access to Toshiba Places, Toshiba?s online platform offering streaming, purchasing and sharing Web-based content. Plus, it supports the HbbTV (Hybrid broadcast broadband TV). Last but not least, the 55ZL2 allows USB recording of digital broadcasting on an external hard disk drive connected to the TV via USB. Thanks to Toshiba Apps Connect, iPhone owners no longer need to reach for the remote control but can control the TV using their smartphone.
The 55ZL2 also features PERSONAL-TV applications: The TV is able to store personal picture settings and a personal channel list for up to four users and it supports personal grouping of recorded content. In addition, the TV set is able to remember the volume level of each user after switching off.
Ultra-thin AT200 tablet
Toshiba 's ultra-thin 25.7cm (10.1") AT200 Android (Android 3.2, Honeycomb) tablet is measuring only 7.7mm from front to back. It offers a wide-view, LED backlight (1,280 x 800 pixels ) display plus full web browsing capabilities. The device is powere by a the TI OMAP 4430, 1.2GHz CPU and has 1GB DDR2 of RAM.
The Toshiba AT200 will be available in the fourth quarter of 2011 in Europe.
To connect with other devices the ultra-slim tablet comes with all essential interfaces and ports onboard: amongst them micro-USB, micro-SD, Wi-Fi and Bluetooth. The micro-HDMI -port allows streaming HD content to the large screen of a TV. Front (2.0 MPixel) camera and back (2.0 MPixel) HD cameras are provied for video conferencing and augmented reality applications.
Despite being ultra-thin, it allows up to eight hours of video consumption.
To complement the video capabilities the new Toshiba tablet with stereo speakers allows for a high quality sound playback. The Adaptive Sound Device Enhancer's algorithm maximises sound quality to achieve a quality that normally only can be found with large speakers. Plus, a technology called Sound Masking Equalizer identifies and enhances sound that is being masked or distorted by surrounding noise.
Toshiba's new tablet also offers a rich web browsing experience including support of Adobe Flash Player, access to more than 250,000 apps on Android Market and Toshiba Places.


Toshiba also introduced two new Full HD Blu-ray players. Both the BDX1250KE and the BDX2250KE offer high video and audio quality, including 1080p up-scaling of DVD content, at a great cost/performance ratio.

The BDX2250KE also provides access to the video web service YouTube Leanback and to the photo sharing platform Picasa.

The glossy black players with silver hairline finishes on their front panels will be available in the fourth quarter of 2011 in Europe.




The new Toshiba Blu-ray players support Full HD playback and high-definition surround sound through Dolby True HD. Supporting BD-Live (Profile 2.0), the BDX1250KE and the BDX2250KE allow users to take advantage of interactive features. Their USB ports can be used to playback videos and photos direct from a USB memory stick. Toshiba REGZA-LINK (HDMI-CEC) technology allows users to control the Blu-ray players with the same remote as their HDMI-CEC compatible TV or home entertainment system.

The DLNA certified BDX2250KE easily integrates into the home network. Offering access to web services such as YouTube Leanback and Picasa, it brings the online world to the big screen in the living room.

BDX2250KE

- 1080p Full HD
- Dolby True HD
- BD Live (Profile 2.0)
- MKV, AVCHD (H.264 profile), MP3, JPEG Playback
- USB 2.0
- REGZA-Link (HDMI-CEC)
- DLNA support for file streaming
- Access to YouTube Leanback and Picasa

BDX1250KE

- 1080p Full HD
- Dolby True HD
- BD Live (Profile 2.0)
- MKV, AVCHD (H.264 profile), MP3, JPEG Playback
- USB 2.0
- REGZA-Link (HDMI-CEC)